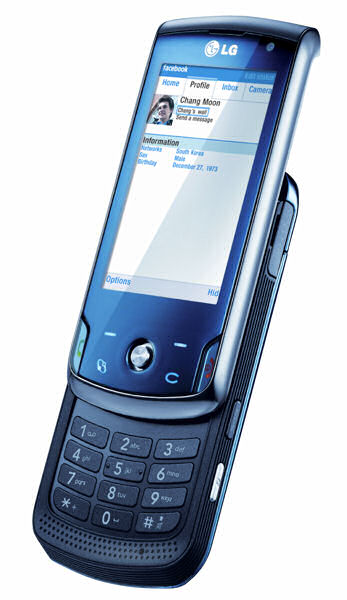 For the moment, we have limited information on the KT-770, but we'll endeavour to track down more information and hands on pictures tomorrow (and update this story).
LG's big announcement today, one of the more significant pieces of software platform news, was LG's strategic agreement with Microsoft to use Windows Mobile in a range of smartphones over the next few years. LG said that the commitment would amount to 50 Windows Mobile devices over the next three to four years. The two companies will co-operate on research and development and the creation of devices, applications and services. In the light of this announcement LG's commitment to the Symbian Platform is debatable, although it may choose to keep an interest in other platforms (Symbian and Android) to keep its options open.
The announcement of the KT770 does mean that four out of five of the biggest mobile device manufacturers have all announced Symbian OS powered devices at Mobile World Congress. Clearly the situation is more complex that this basic statement would suggest with Sony Ericsson's device being a 'concept', LG's open platform focus shifting to Windows Mobile and Samsung's attention split between multiple platforms. Nevertheless it does represent a strong endorsement and a good proof point for the platform. It also gives S60 considerable momentum out of Barcelona.
LG's previous Symbian devices include the KS20 (JoY), KT610 and the KT615. These have only had a limited release (e.g. in the Italian market), and sales numbers have been small.
Key Hardware Features of the LG KT770
System: GSM

(850/900/1800/1900 MHz)

, UMTS

(900/2100 MHz) or

UMTS

(850/2100 MHz)

User Interface: S60 3rd Edition Feature Pack 2


Dimensions:

109 x 50.5 x 12.6 mm

Display: 400x240 WVGA

External storage: microSD card support

Key Software Features of the LG KT770
Stereo bluetooth support.
Auto focusing 5 megapixel camera with face and smile detection

Optimised for navigation with A-GPS.
9 way joystick for easier internet browsing.
Editorial note:
Correction: We originally stated that this phone was running S60 5th Edition. This was incorrect, we apologise for the mistake.