Hands-on first impressions:
The Idou feels pleasingly solid, though not especially heavy, with build quality reminiscent of Sony Ericsson more robust metal based feature phones. It is finished with metallic materials that re-inforce the feeling of solidity. The camera slide is smooth and similar to other high-end Cybershot devices. The camera hump is less noticeable in person that it is the pictures. Indeed the whole device, subjectively, feels smaller that the pictures suggest. Unlike the Xperia X1 the device is not significantly larger than Sony Ericsson's other high-end phones.
It is not really possible to say much about the Idou software at this stage. While the phone was running a test build it was relatively limited. However there were a few notable points: it included the Sony Ericsson media bar and music player (icon based list in black and while together with Walkman style music player), bringing the mind the generic Sony multimedia 'ident'. The homescreen was customised and had a Sony Ericsson style which reminded be of the W960.
There was some very smooth picture scrolling and UI transitions suggesting, a positive indicator of performance for an early build (there were also some lags too).
The only truly notable indicator (in the demos) that the device was running S60 was the clock and bat screensaver that kicked in after periods of inactivity). The application launcher was similar too (but then it is on most phones). However at this point the software was really more for show purposes (the media tends to get a bit tetchy if you only show them a non-working device).
There are some hands on pictures of the Idou in our live MWC photo stream.


Key details of the Sony Ericsson Idou:
It is a 'concept' device in the sense it is early in the development cycle. However it will lead to a phone in due course. Sony Ericsson say they will announce more details, including specifications and a release, this summer. This would point towards a release date in the early part of 2010. Idou is the concept name, not the name of the final device.


It has a 12.1 megapixel camera with Xenon flash, a 3.5 inch touchscreen (which will have an aspect ratio of 16:9). These are the only official specifications. However you can also infer a number of other details: On the right hand side of the device there is text that indicates WiFi connectivity and a GPS chipset are included. There's also a microSD card slot on the left hand side of the device.


The Idou is part of Sony Ericsson's 'Entertainment Unlimited' consumer proposition, which they are launching at Mobile World Congress this year. It is about 'Bringing together rich content, unique applications and best in class entertainment experiences'. Idou can be seen the expression of the 'latest snapshot of thinking' of Entertainment Unlimited. There are three key areas:


Uniting Sony Ericsson entertainment experiences (Walkman - music, Cybershot - imaging, and Java gaming) into one offering.


Broadening the entertainment beyond the phone to the rest of the home (TVs, HiFis etc. via UPnP), letting consumers share and consume entertainment content in a flexible way.


Fusing communication with entertainment, primarily by enabling sharing. Or in other words... it is still a phone too.


The device will run the Symbian Foundation Platform, the first release of which is due in Q2 of this year. In effect this means it will be running a descendant of S60 5th Edition. Given the timescales involved it might be analogous to S60 5th Edition Feature Pack 1. However the naming conventions of the software platform will likely not include S60.


The device will be Symbian Foundation Certified. This means it will be certified as being compatible (from a platform perspective) with the standard Symbian Foundation Platform release. It will be cross compatible with other devices from Samsung, Nokia and other Symbian Foundation users.


The software will be 'Sony Ericsson-ised'. Sony Ericsson said they are looking to bring their user experience (UX) patterns to the device. For example the demo device had a test build which included the standard Sony Ericsson media bar and Walkman music player. We can expect to see customised Sony Ericsson applications, iconography and style. The device's UI will look substantially different to current Nokia and Samsung S60 devices. Further assessment will have to wait until later in the device's development cycle.


Sony Ericsson say they are announcing Idou 'early' for a number of reasons. They intend it to be a declaration of intent in terms of their confidence in the platform. They are also confident that they can bring it to the marketing in a timely matter because of their confidence in the platform. They also acknowledged that there is a need to entice developers to Sony Ericsson products. While developers can create their programs against the Symbian Foundation Platform SDK it is very likely that Sony Ericsson will provide additional API and resources to take advantage of custom Sony Ericsson technology.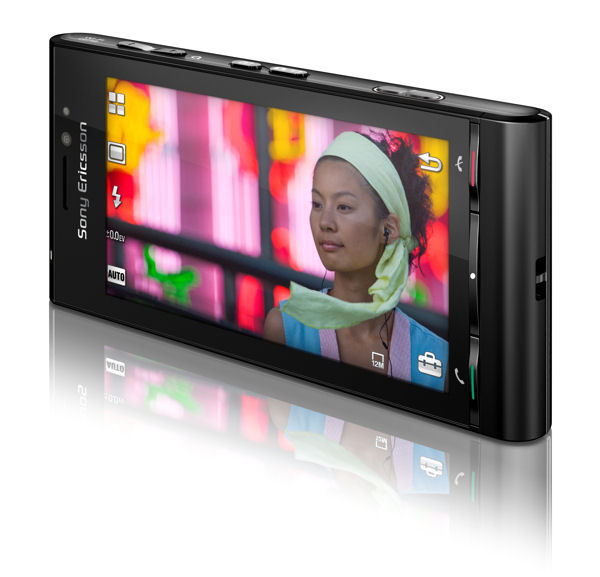 Here's the relevant part of the press release:
Idou encapsulates the future of mobile entertainment in the palm of your hand delivering visual communication like never before.

Capture moments, talk through pictures and share all your experiences like never before with the 12.1 megapixel camera, intuitive touch features and Xenon flash. Tap directly into your favourite videos and tracks with the full-touch media menu and feast your eyes on movies, TV-series and video clips in true 16:9 widescreen format. Based on what will become the Symbian Foundation operating system, thousands of applications are available online letting you install new applications and download exciting content from PlayNow™ to make the Idou truly yours.

Dick Komiyama, President, Sony Ericsson said, "Entertainment Unlimited is at the core of Sony Ericsson's philosophy, building on the strength of our great entertainment assets such as Walkman and Cyber-shot phones and our unique service and applications integration. Many of the strategic initiatives we've announced in the past year have laid the internal framework to launch this new consumer proposition to the market and Sony Ericsson is now ready to drive the next wave of market development with Entertainment Unlimited."

Idou will be available 2nd Half of 2009.
Rafe Blandford, 23:59 pm, 15th February
Steve's Comments:
From our original story: Or so reports Rafe, at a pre-MWC event, calling it a "candidate for phone of the show" - Err... Rafe, the show hasn't even started yet, and this is only a concept! More detail and pics below.
There's a dedicated Idou mini-site here: http://www.sonyericsson.com/idou/. This went live at 7pm GMT.
Rafe will have more details (now added, see above), but, to me, this looks to me like a 'get your foot in the door' semi-prototype that, like the X1 last year, won't actually be available for nine months to a year, and certainly not under this codename. It will run Symbian Foundation software, more details shortly.
Steve Litchfield, All About Symbian, 7pm 15 Feb 2009