The Last.fm functionality works fine, but is a relatively basic implementation. It's a nice extra for fring users, but if you are serious about your music you will probably want to use the excellent Mobbler, a stand alone Last.fm client that includes the ability to 'scrobble tracks' and has a more user friendly interface.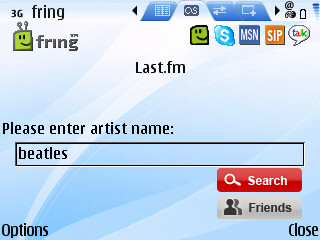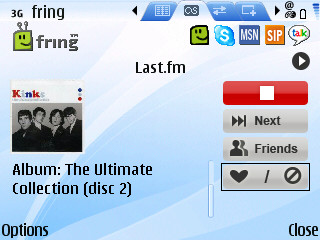 The Last.fm function inside Fring on the E71.
The added functionality is one of the first fringAdd-ons that have been enabled by the release of the fringAPI (others include GMail notifier, Facebook and Orkut). So far these add-ons have been developed internally by fring, but the API is also open to third party developers.
Fring, which we've been following closely over the last few years, has greatly expanded its functionality over the years and its developed into one of the pre-eminent freeware applications for the Symbain platform. Recently they have also started to show promising signs of implementing a workable business model through partnerships with various brands and have even managed an operator partnership (Austria's A1), something which is still very rare in the VoIP world.
However there is, perhaps, something of a danger that a mobile application can over reach itself by adding to much functionality. While the development team have, sensibly, opted to make add-ons optional, novice users may still find the extra level of options confusing during the set up process. There is a danger in becoming a 'jack of all trades, but master of none' with stand alone applications generally providing a better individual experience.
With that said, the Last.fm functionality does play into fring's core social strengths by integrating the friends list of the two services so you can see what your friends are listening too. Clearly there are also advantages in mashing services together, something you can not do, as easily, in a stand alone application.
Moreover the instant messaging / VoIP space is getting increasingly competitive, something which will only increase with Nokia's forthcoming entry via its acquisition of Oz Communication, so it makes sense to add differentiation by adding functionality. It may also encourage third party developers to make use of the the fring ecosystem, something which may prove to be the key advantage in the future.
Here's a video from fring explaining the Last.fm functionality: