One of the aims of the service is to help facilitate serendipitous meetings between friends. If you know where people are and what they're doing then it is easier to make plans together on the spur of the moment.
The application has two basic components: firstly, updating and sharing your location, and secondly sharing information and what you are doing or thinking (micro-blogging).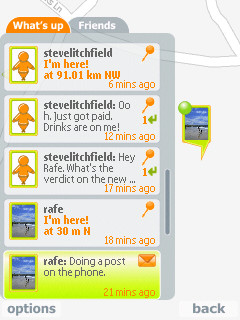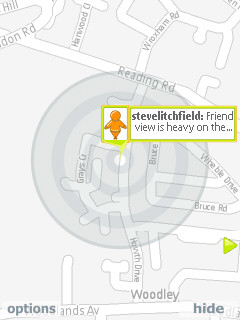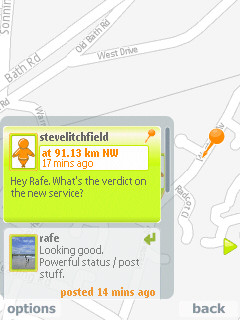 What's up view, viewing a friend's location and commenting on a post.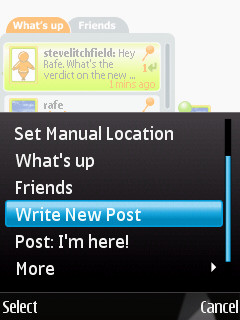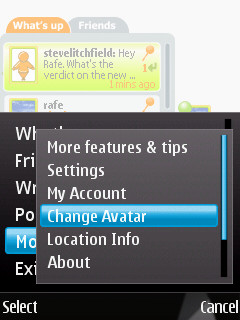 Nokia Friend View is also available via the web. You can see your friends' locations and recent status updates. It's a good example of how services can cross over between platforms to add additional value. Clearly the phone client is the only option when out and about, but the web version means you can take advantage of the bigger screen and keyboard when you are sitting at your desk.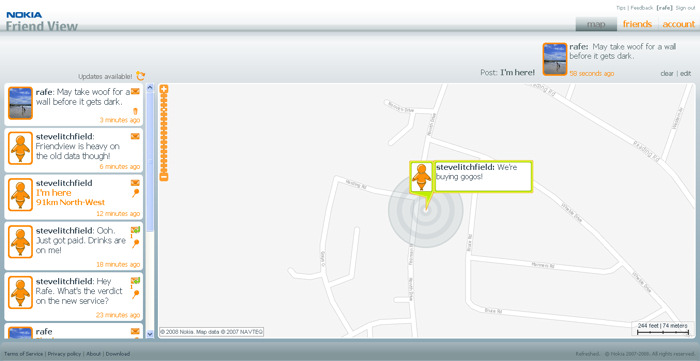 You will need a Nokia Account in order to use the service (Nokia's new unified log-in service that includes Ovi). Friend View should work on all S60 3rd Edition phones and is available from the Nokia Beta Labs web site.
Friend View is an experimental service which has been built by the Nokia Research Centre. As such, it should be seen as a way of exploring new ideas and concepts. It is not a mature service in the same way that Nokia Maps, or even Nokia Chat, is. However, it is likely that the concepts seen in Friend View could form part of a new application or be combined into existing Nokia services. Releasing it through Beta Labs gives Nokia the opportunity to gather additional feedback from a wider group of people.
Finally here is a video, courtesy of Beta Labs, explaining the new service and showing it in action. [You might recognise AAS-friend and ex-blog-supremo Stefan, now working at Nokia in Finland, of course...]