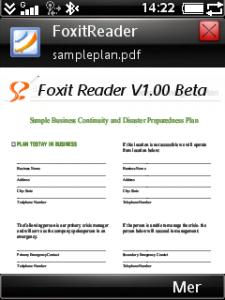 Overview
Foxit Reader for Symbian UIQ 3.X is a powerful free PDF reader that allows users to easily view PDF documents on mobile phones incorporating UIQ 3.X on Symbian OS. Building on Foxit Embedded PDF SDK, Foxit's new PDF rendering engine for mobile platforms contains all the key features of the SDK such as progressive parsing/rendering and out-of-memory (OOM) recovery. Use Foxit Reader for Symbian UIQ 3.X to start working with PDF files on your devices anywhere, anytime.
Foxit Reader V1.00 Beta for Symbian UIQ 3.X introduces many features listed below:
PDF viewing: Enables users to view PDF files on Symbian UIQ 3.X devices.
Zoom tools: Specializes in adjusting the view of PDF documents with multiple zoom levels.
Go to page: Navigates to a specific page when you are reading a PDF file.
Page rotation: Allows rotating page display 90 degrees.
How to Support Foxit Reader for Symbian UIQ 3.X
Do you like Foxit Reader for Symbian UIQ 3.X?
Do you want to get a free version with more powerful features?
If your answer is yes, you can get your device's manufacturer to preinstall this application. To support Foxit Reader for Symbian UIQ 3.X, please do not hesitate to contact your device's manufacturer and explain to them why you like Foxit Reader and the benefits of having this application on their devices.
Your help is highly appreciated.
Customization
Foxit Software provides a powerful complete PDF solution for mobile devices. The Reader for Symbian UIQ 3.X customization is included in mobile solutions. In addition to the features mentioned above, Foxit also provides a number of features that can be configured for your specific needs. The key features that can be customized for your implementation include:
Find text: Searches for the text in a PDF file.
PDF file reflow: Reflows text to fit the screen size when you view a PDF file.This feature makes reading on mobile devices much easier, without manually scrolling from left to right anymore.
If you are interested in customizing Foxit Reader for Symbian UIQ 3.X, you may email us at sales@foxitsoftware.com. Our engineers will be happy to offer extensive customizations to meet your specific needs.
Download and Installation
To get the free version of Foxit Reader for Symbian UIQ 3.X, please click here.
To install this application, please follow these steps:
Transfer the downloaded .sis file to your handsets.
Browse to the .sis file with your file manager.
Select Foxit Reader and tap Install.
Choose where to install the application and tap Continue. The installation starts.
When it is completed, you can choose to start Foxit Reader immediately or later.
Please note that Foxit Reader shortcut icon will be created in the Tools menu automatically after installation.
Thanks to Ares of the UIQ Evangelist for the news