Maps View
Nokia Photos 1.5 adds a new view to the application: Map. This is intended to help visualise images that have been geo-tagged, but also allows you to add location information to (geotag) existing photos. Nokia Photos uses map data from Navteq through the Maps on Ovi service.
Geo-tagged photos appear on the Map as small thumbnails. Double clicking on a photo displays the photo in a full page view from where you can add meta information (tags, title, description) or do basic photo editing tasks (adjusting brightness, removing red eye and so on).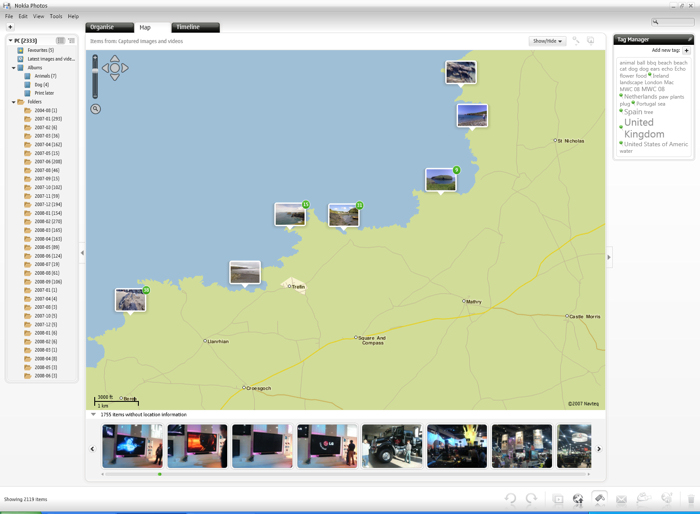 Maps View in Nokia Photos
Where there is more than one photo for a given location, images are stored in stacks (piles). The number of images in any given stack is indicated by a number on the top right of the stack. Clicking on a stack brings up a pop-up which lets you browse through any photos in that stack.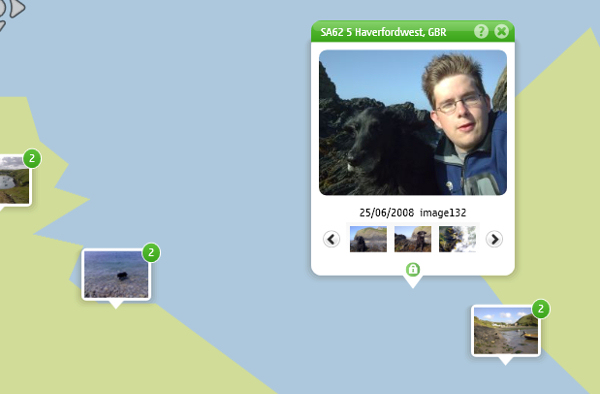 Image stacks allow you to view multiple photos in one location.


At the bottom of the Map View is a carousel of photos that do not currently have location information associated with them. These can be dragged and dropped on to the map to add the appropriate location information.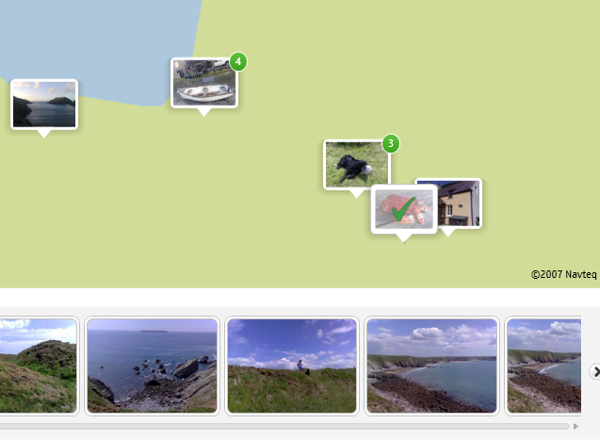 Dragging an existing photo onto the map to add location information.
Maps view also includes a search function, which allows you to find place names (e.g. towns and villages).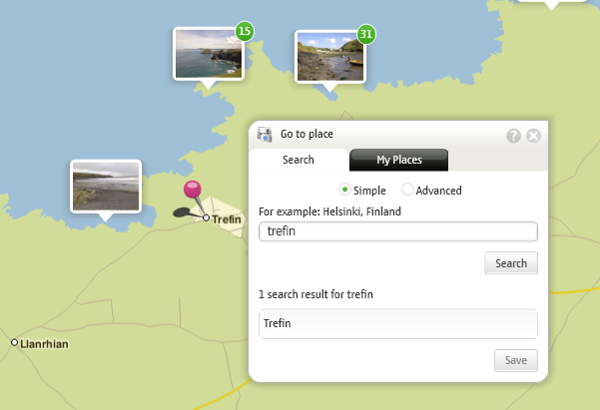 Timeline and Organise Views
Version 1.5 retains the Timeline and Organise views from earlier versions. The Timeline view incorporates text messages and calendar entries to give you a 'lifestream' view of what you have been doing.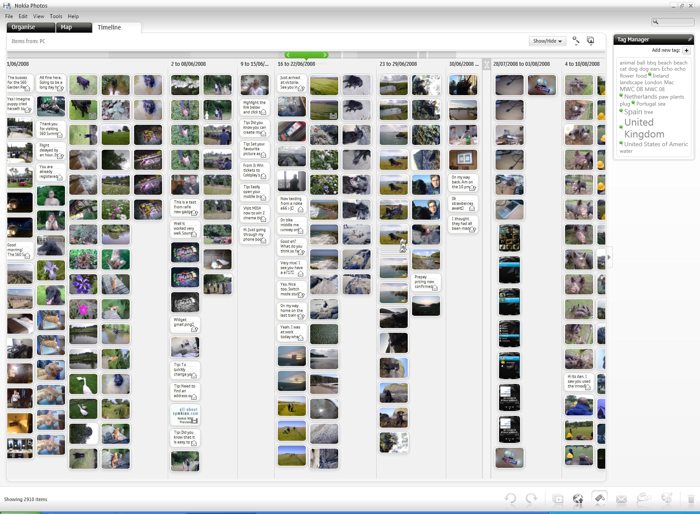 Nokia Photos Timeline View
The Organise view offers the more traditional media management application view.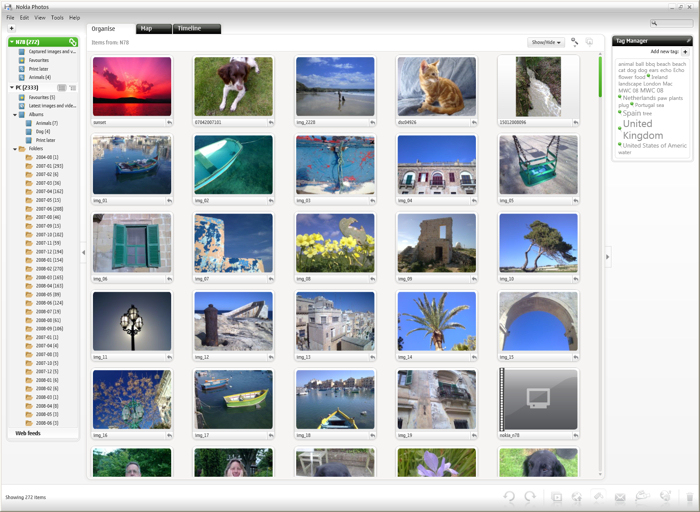 Nokia Photos Organise View
In all three views you can use tags to filter the images that are displayed on screen. Tags can be edited or added in Nokia Photos, either on the phone or on the PC. These tags can also be used when you upload media to online services.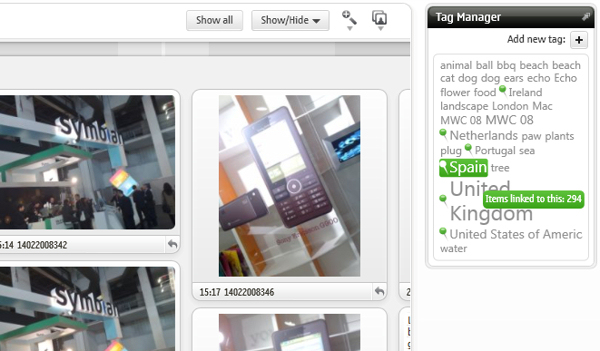 Tags in Nokia Photos
Syncing / copying media to and from Nokia phones
Nokia Photos automatically recognises (and optionally syncs to) Nokia phones which have been connected via USB. You can view photos and videos which have been stored on the phone (including albums for Nseries phones running S60 3.2 and above). Syncing a phone (either manually or automatically) copies media from the phone to the PC (by default, media stored in monthly folders in My Pictures or My Videos).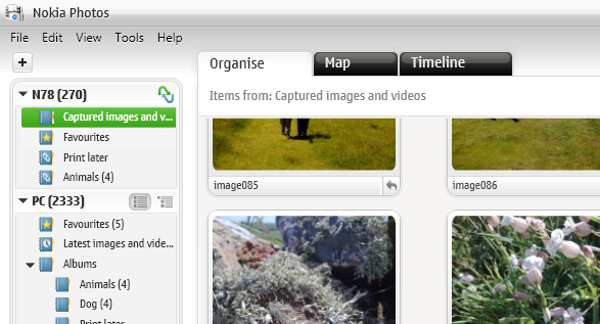 A Nokia Nseries phone in Nokia Photos
Nokia Photos can also be used to copy content from your PC to your phone. Nokia Photos can optionally re-size images or transcode video to optimise for display on the device and minimise the space used by the media. This is especially useful for media you have imported from another source (e.g. video from a standalone camera).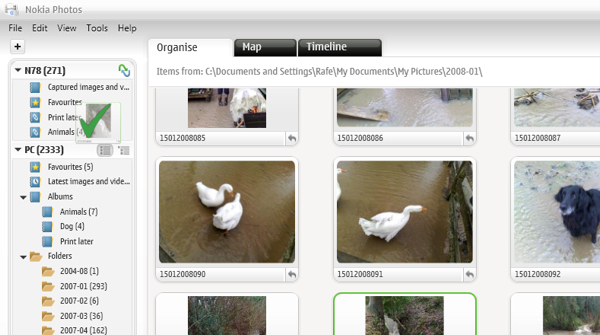 Dragging and dropping media onto a connected device.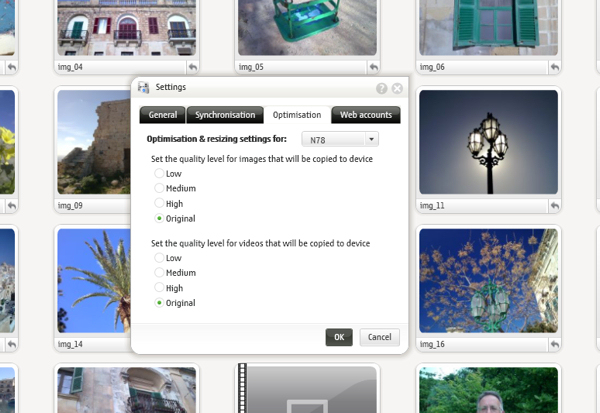 The optimisation settings control the attributes of media copied to the device.
Integration with Nokia Services
Nokia Photos 1.5 has improved integration with other Nokia Ovi services. The Upload functionality has been made much more user friendly and easier to set up. When uploading photos, you can specify whether you want to include related tag and location information. Given the privacy concerns about publishing images publicly with location information attached, the latter is particularly useful.
The upload functionality utilises the standard ATOM Publishing Protocol which means it can also be used with a number of other services, including Flickr and Vox. Each service is set up as a different account and you can add as many accounts as you wish.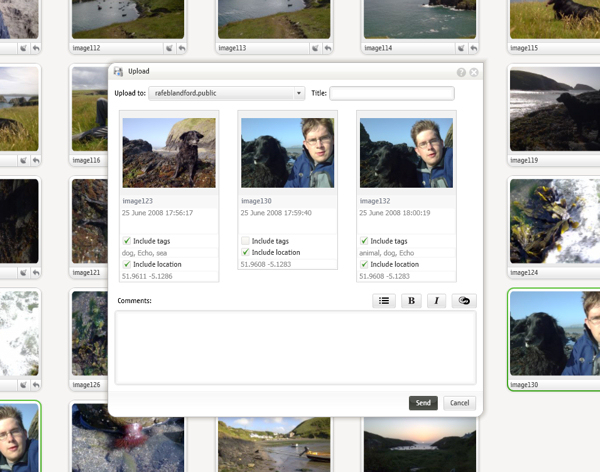 Nokia Photos' Upload function

There's also integration with the Nokia XpressPrint Print Online service. This allows you to order prints of photos from within the Nokia Photos application. Photos are uploaded to the Internet to an online printing service. Prints are delivered by post within a few days of an order being made. In addition to prints, other items, such as t-shirts and mugs, are also available.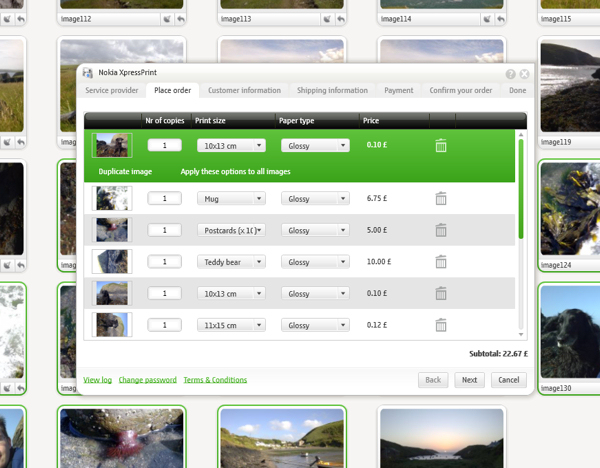 Integration with Nokia XpressPrint
Miscellaneous
As with other Nokia Beta Labs releases, please note that this is pre-release software (and may be unstable) and Nokia actively encourage you to give feedback about problems with the application and how you would like to see it develop.
During our testing we found the application to be reasonable stable, but, in common with Nokia's other PC applications, it does use a large amount of resources (200MB+ of RAM).
More information is also available on the Nokia Beta Labs Blog.
Rafe Blandford