No word yet on Comes with Music arriving on an S60 device, but we're fully expecting them to arrive before Christmas. Given the above exclusivity statement, it should be for new contract customers, although I suspect there may be people thinking about picking up the pre-pay 5310, and then using the personal subscription on an S60 device - if you are one of those, then be aware that DRM is involved in the Music Store so this may or may not be possible.
Comes With Music sees Nokia partner with the 'majors' to provide what they hope is a credible alternative to Apple's iTunes store. Currently Universal, Sony BMG and Warners are on board. In late March the final publisher of the four, EMI, indicated they'd be ready to join, although there hasn't been any updates since then. There's also been no indication on the participation of smaller 'indie' labels as yet - an important area as between them all they are a larger slice of the music publishing pie than any of the major labels on their own.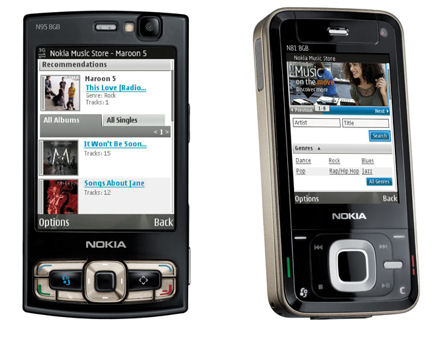 The timing of this announcement is also interesting, given that a press event for Comes with music scheduled for October 2nd in London. Rumours around the Internet are that Apple are looking to announce something next week, just before CTIA, and the iPod music players are in line for an update. If that's going to include a Music Subscription service for iTunes, then it makes sense to get this news out there so Nokia don't look like they are playing catchup in commentators minds.
All About Symbian will be keeping a close eye on Comes with Music, and the upcoming October event. In the meantime, Nokia's full press release can be found here.