The N85 is Nokia's smallest dual-slider Nseries handset so far and offers a number of key technological advancements (explained below). It manages to do this while significantly lowering the launch price compared to its predecessors (N95 family) and thus opens up the higher end of Nokia's Nseries portfolio to a wider audience. The N85 looks set to follow in the footsteps of the N73 and N95 as an iconic handset for Nseries.
In terms of positioning the N85 is a mid to high end Nseries and sits in between the N78/N9 and the N96. It can be seen as a replacement for the N80 and N81 and complimentary the N95 family.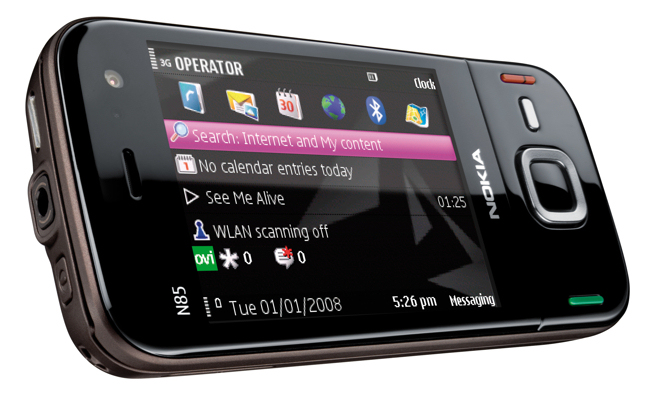 The N85 follows the design language of the N96 and N78 with the 3D 'adzed' plastic on the back of the device, the hard silver / grey plastics on the side of the device and a predominantly flat, black and shiny plastic on the front of the device. It also has the hidden-till-lit control key cluster design, made from a single piece of plastic, but with each key having its own key dome.
The N85 will be one of the first Nseries to ship with the full range of Ovi services and software on the handset out of the box.
(Update) See Also:

Feature: N85 hands-on first impressions (including comparison images)
Gallery: Nokia N85
Key points about the N85 hardware:
2.6 inch, QVGA (240 x 320) AM OLED screen with 16 million colours. AM OLED screens have a number of advantages: they generally draw less power, and have better performance for colour gamut, response time, and contrast. See below for more on AM OLED.


Tri-band WCDMA cellular and quad band GSM radios, which means 3G data connectivity or calling can be used worldwide. There will be three N85 variants: a European and Asian model (WCDMA 2100/1900/900), an Americas model (WCDMA 2100/1900/850) and an EDGE/GSM only model for the Chinese market. See below for an explanation of WCDMA bands.


USB charging. The N85 is the first Nokia S60 model to support USB charging and the first Nokia device to support simultaneous charging and data transfer. The microUSB (Hi-Speed USB 2.0) connector is also used for PC connectivity, media sync, printing and USB mass storage (client). The N85 does not have a 2mm power port, instead a microUSB charger (Nokia AC-10) will be provided.


Dimensions of 103 x 50 x 16mm and a weight of 128g make the N85 at least 25% thinner than previous dual sliders (N95 8GB: 21mm, N96 20mm). It is also the smallest in overall volume at 76cc (N96 is 92cc, N95 8GB is 96cc).


5 megapixel camera (2584 x 1938), which is protected by a sliding lens cover and accompanied by a dual LED flash/photo light and lens cover. The lens uses Carl Zeiss optics and has an aperture of F2.8 and focal length of 5.45mm. Video capture is at VGA resolution at 30 frames per second.


The camera's dual LED flash has optimised micro-optics. The gain is better than earlier devices with freshnel lenses. Essentially this means the flash will provide greater illumination. Using an LED flash means it can be used in both video and photo mode.


Intelligent key illumination - the upper slide keys illuminate according to their current function. In music and video playback, the multimedia shortcut controls are shown. In N-Gage games, two circles represent the dedicated gaming keys. Similarly, the control cluster only illuminates when the key functions are available (e.g. switched off in camera mode).


Touch sensitive NaviWheel for scrolling in user interface. Auto screen rotation powered by integrated accelerometer sensor.


8GB microSD memory card included in the box. 70 MB of internal memory with 128 MB of RAM (around 75MB free after boot up).


Integrated FM transmitter (as first seen in the N78) and FM radio with RDS support.


3.5mm stereo headphone jack (on the top of the device), which is also used for TV-out. Twin stereo speakers are located on the top and bottom of the right-hand-side of the device (above and below the volume and camera capture keys respectively).


Integrated GPS (with support for A-GPS), which is used for GPS navigation and geotagging photos. The GPS antennae is located on the back of the, near the top end of the device around the camera area. This should give it the optimum position for reception regardless of the slide mode.


WiFi (802.11b/g) and Bluetooth connectivity, including support for A2DP and AVRCP profiles (Bluetooth stereo headphones).


Nokia BL-5K battery (1200 mAh) with quoted standby time of 300 hours. 25 hours of music playback (offline mode). In the real world this should be sufficient for a day of heavy usage.


The in-box accessories for the N85 are stereo headset/controller (HS-45/AD-54), high power charger (AC-10), connectivity cable (CA-101), 8GB microSD card, and TV-out cable (CA-75U).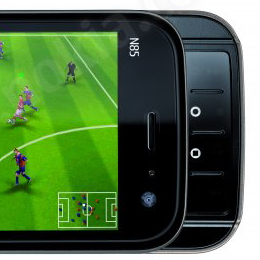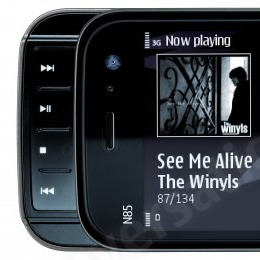 Key points about the N85 software:
Runs S60 3rd Edition Feature Pack 2 on Symbian OS 9.3.


Photos application on phone for viewing photos, organizing into albums, printing locally, and adding meta-data/tags. Share online application for uploading photos and video to Flickr, Share on Ovi and other web services, with XpressPrint application for printing photos via the web. Bi-directional media sync between Photos application on the handset and Nokia Photos for PC.


Music player (MP3, AAC eAAC+ and WMA) and Nokia Music Store applications on the handset. As with current handsets (in some markets) a few music tracks are likely to be preloaded on the memory card. Intially the Nokia Music Manager software will be used for side loading. Nokia Music PC client, currently in beta, may replace this at a later date.

Video Centre can be used to download video on the device via RSS feed. (H.264, H.263, RV 8/9/10, and WMV). WMV can be handled at VGA resolution at 30 frames per second (downsized to QVGA on handset, but full resolution used for TV-out). Side loading of videos is supported by Nokia Video Manager.


UPnP software suite for controlling remote UPnP servers, control points and renderers, making on-device multimedia available to other UPnP devices, and syncing on-device media to UPnP server. A Nokia-branded version of Simple Center software is included in the box.


Nokia Maps 2.0 (3 months free navigation in selected markets) for driving or walking navigation will be available out of the box. Maps for the appropriate local area will be preloaded on the microSD card.


The full N-Gage client application will be available out of the box. The N85 will ship with 15 N-Gage games preloaded and there will be an in-box voucher that will let you activate one of these games for free.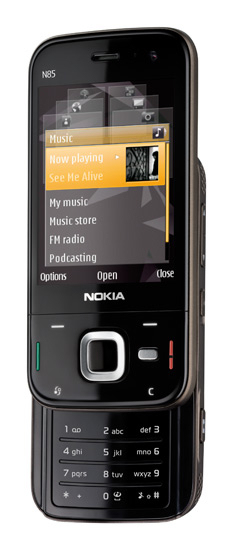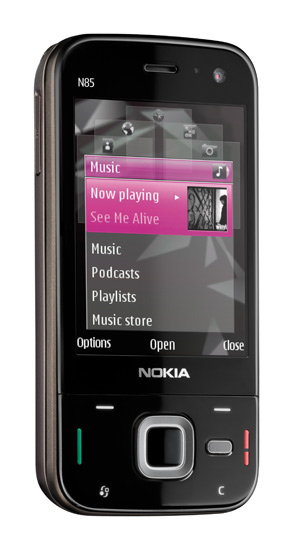 N85 Video demo, courtesy of Nokia Conversations
AM OLED Screen Technology
The N85 has a new screen technology - AM OLED, but what is it and what does it mean for you?

OLED, also known as LEP (light emitting polymer), is a screen made up of small dots of organic polymers that, when charged with electricity, emit light. The advantage of OLED displays are that they are generally brighter, have a better colour gamut (numbers of colours that can be accurately displayed at same time), have better contrast ratio, have a better response time, have better viewing angles and use less power. In contrast to traditional TFT LCD displays they do not require a back light.

AM OLED is a technology that combines the active matrix back plane, from a traditional TFT screen, with an OLED display. AM OLED displays, because of their active matrix nature, are quicker to switch pixels and thus give better performance for fast moving, on-screen changes such as animation and video.

What this means is that the N85's screen, compared to earlier Nseries devices, will have:
Reduced power consumption. In normal uses cases AM OLED requires 30-40% less power than a LCD screen. The power used is related to what is shown on the screen - the darker the screen the less power is used, conversely a predominantly white screen will use more power.
A better contrast ratio (ratio of the luminance of the brightest color, white, to that of the darkest color, black). Roughly 1:1300 compared to 1:500. Black is truly black on an AM OLED screen as there is no back-light and therefore no 'light-leakage'.

A better viewing angle - around 180°.

A greater number of different colours on the screen at one time.

A brighter screen for the same amount of power.

Tri-Band WCDMA
The N85 has tri-band WCDMA cellular radios in two different variants - a European and Asian one (WCDMA 2100/1900/900), an Americas one (WCDMA 2100/1900/850). Previously Nokia has had dual band WCDMA devices.
There are four commonly used WCDMA bands:
Band I: (WCDMA 2100) in Europe, Africa, Asia, Oceania and Brazil
Band II: (WCDMA 1900) in North America and South America
Band V: (WCDMA 850) in Australia, Brazil, Canada, the USA, other parts of South America, and parts of Asia
Band VIII: (WCDMA 900) in Europe, Asia, Oceania, and Australia
Tri-band WCDMA means that the N85 should be usable, in 3G mode, in most countries. Currently 2100 and 1900 are the most commonly used bands.
N85 versus N96 size comparison