The POIs generally have significantly more extra information than the default POIs (usually just an address and phone number). POIs in the guide have a description, details of the nearest public transport and, where relevant, opening times. As with other POIs in Nokia Maps you can view details, navigate to it (car or walk), send it to a friend or save it as a favourite.
As such the travel guides contain only a sub-set of the information available in the book versions of the guide. I think the Nokia Maps team would do well to find a way to include more of the generic information that is found in book versions of the guides (perhaps via the Web browser?). The guides would also benefit from the greater use of multimedia - be images, video or audio. Equally additionally features such as self guided tours (routes) could be included to add extra value.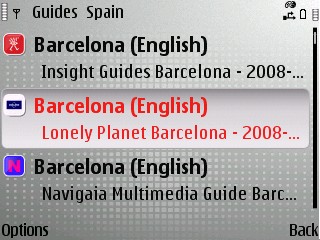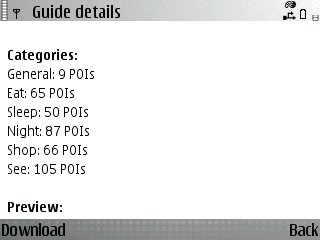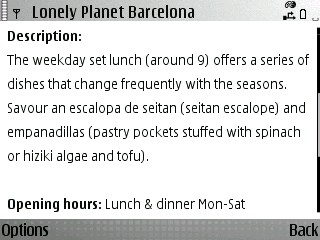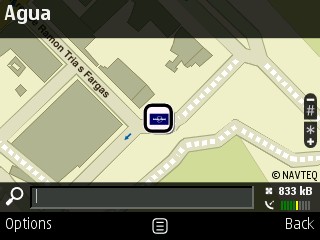 The guides cost £5.99 which seems relatively expensive given you're only getting a subset of information from the paper version. Fortunately a 10 minute trial (something new in Nokia Maps) is available which gives you an opportunity to try before you buy. I do think that it represents good value for the traveller looking for immediate information (e.g. business travellers in town for a few days). It is difficult to deny the benefit of the immediate over-the-air guide experience.
The quality of the Lonely Planet guide I tried was very good. 382 POIs added a great level of detail to what was already available and covered all the major tourist attractions and a reasonable number of restaurants and guides. The value is not so much in the locations (most POIs were already covered), but in the extra detailed information that comes with them. Information such as restaurant type and opening times are essential for the traveller.
This contrast with other guides available via Nokia Maps in which the quality varies greatly. I would like to see some way of rating and ranking the guides, especially as many cities have multiple options (Lonely Planet, AA, Berlitz etc.).
Here's a quick video run through showing the Lonely Planet Guide for Barcelona in Nokia Maps:
Here's an extract from the press release:
"Lonely Planet is a well known brand amongst travellers and stands for adventure and editorial independence," said Maximilian Schierstadt, head of media partnerships, Nokia context based services. "We are very excited to offer their expert local recommendations and itineraries to our Nokia Maps consumers, which will allow Nokia to continue to innovate and enable compelling location aware experiences."
Stephen Palmer, CEO, Lonely Planet Publications added, "This is a genuinely transformational deal, which makes Lonely Planet content readily available regardless of time or place. It will help all those questions which travellers frequently have on the road such as 'What should I explore today' or 'where should I go for dinner tonight?' Together with Nokia we will help more travellers connect profoundly with their world, every day."