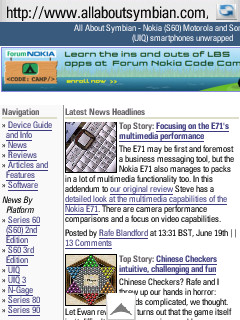 Digia @Web Portrait showing AAS frontpage
With the release of the first beta, Digia also made available the support page for @Web which contains useful information about the application. The @Web conformance report is a test comparison table comparing @Web, Opera 8.65 (default UIQ 3 browser) and S60 Browser. @Web user guide is the user guide for the application which explains how to use it (e.g. accessing zoom and settings functions), and last but not least, they made available the @Web FAQ in which they explain the decision to use Webkit instead of Gecko (Firefox rendering engine). Good stuff to read.
We will publish our initial thoughts about this interesting web-browser in the coming days. Stay tuned!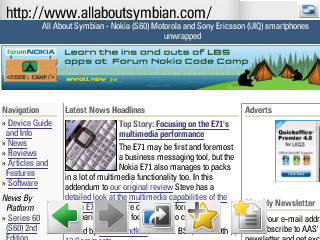 Digia @Web Landscape showing the AAS front page