The E66 is positioned as a voice-centric device, but also has strong personal information management features and is no slouch in the multimedia department - reasonable camera and decent multimedia software support (H.264, WMA). There's full support for VoIP via the SIP backed Internet Telephone application for both independent services and corporate PBXs.
The E66's enterprise leanings come primarily through its on board software. There is support for a number of push email solutions including Nokia's Intellisync and Microsoft's Exchange ActiveSync; device provisioning and management (remote lock / remote wipe) is also catered for through these solutions. On board software includes the usual Quickoffice, Zip Manager, PDF Reader and Active Notes. New is Encryption which allows you to encrypt both the internal and external memory.
There is also the ability to extensively customise the idle screen (home sreen) thanks to a variety of plug-ins (e.g. email, to-do's, music, WiFi, Internet telephony) and the Switch Mode application. The Switch Mode application allows you to have a number of pre-configured idle screens (shortcuts, plug-ins and theme) that you can switch between depending on what you are doing (the basic concept is to have one for work and one for personal usage). You can read more about this and other new Eseries features in our review of the Nokia E71 (we'll have a review of the E66 shortly).
In common with other recent Eseries devices (starting with the E65) there are One Touch keys to access the key functions of the phone. These default to Contacts, Calendar and Messaging but are user configurable (both single press and long press).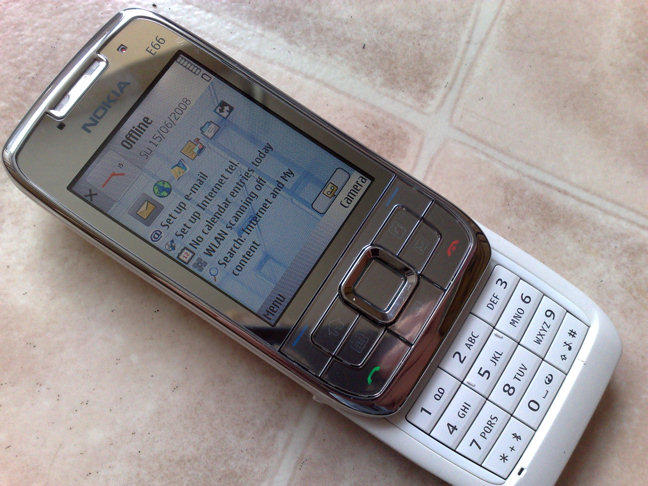 Key points about the phone
It has a slider form factor, and has dimensions of of 108 x 50 x 14 mm and weighs 121g. That compares to the E65 at 105 x 49 15.5mm and 115g. It is notable bigger than the E51 at 115 x 47 x 12 mm and 100g.


On the rear of the device there's a 3.2 megapixel auto-focus camera with accompanying LED flash. There's the usual VGA camera on the fron right for video calls.


The E66 is equipped with an accelerometer and supports (optionally) automatic screen rotation when you turn the device.


Integrated GPS with support for Assisted GPS. The phone ships with Nokia Maps 2.0 for car and pedestrian navigation.


There is an integrated FM Radio.


As well as Wi-Fi, the E66 is a quadband GSM (850/900/1800/1900), dual band WCDMA (900/2100) with HSDPA (3.5G) phone. Its Bluetooth profiles include support for stereo headsets. It also has a microUSB port, an infrared port and a 2.5mm headset jack.


An icon of a house is used in place of the S60 swirl to access the home screen (idle screen) and application screen. This change was first seen on the E51 and is also found on the E71.


It runs Symbian S60 3rd Edition Feature Pack 1, also known as S60 3.1.


The E66 will ship with the full Eseries software suite. This includes Search, Quickoffice (4.1), PDF reader, Zip manager, File manager and Active Notes.


The internal and external memory can be encrypted to protect sensitive data using the in-built encryption application.


In the box it will ship with a 2GB Memory card, AC5 charger, CA-101 USB cable, HS-47 stereo headset, a wrist strap and cover pouch.


A US version, the E66-2, has passed through the FCC. It supports the US WCDMA bands - 850/1900 Mhz.


The E66 is shipping immediately. In practise this means you should be able to find it in the shops easily in the next 2-4 weeks. It likely to be available online, from the usual retailers, in the next 10 days. The E66 will be available in two colour variants: white and black.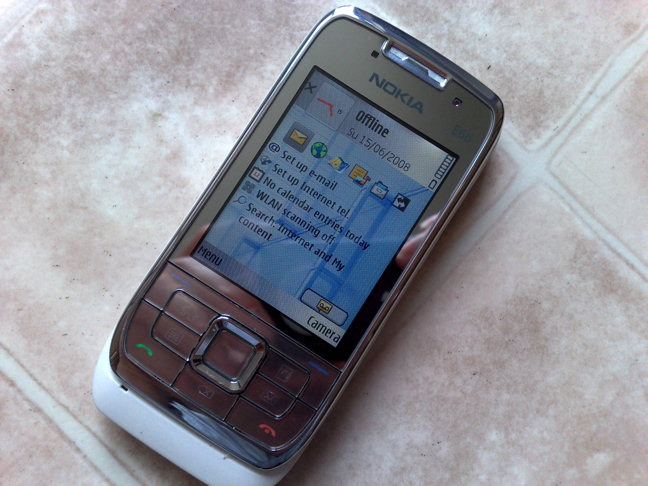 The E65 was something of a surprise success for the first generation of Eseries devices. The E66 retains the familiar form factor and manages to thin down while adding a raft of new hardware (GPS, HSDPA, improved camera, FM radio) and software (S60 3.1 - improved performance and stability, better multimedia, more mature enterprise software suite) features which should make it attractive to both those looking to upgrade and to new users.