The application is currently described as being in early beta. There are a number of performance issues and you will need a well specified PC in order to get reasonable use out of the application.
Nokia Music can be thought of as the Nokia equivalent of Apple's iTunes. Nokia Music Store integrates with the application for the purchase and download of new music (although it is not enabled in this early beta version). It is also another part of Nokia's Ovi offering (as can be seen from the branding of the application). As with iTunes, the application is divided in two parts between music management (My Music) and purchase (Store).
My Music is used to manage music stored on the PC and to control what is copied to a mobile device. Your music collection can be viewed in a number of ways (Artist, Albums, Tracks, Genres, Recently Added). You can transfer music to a mobile device using automatic settings (see below) or by dragging and dropping albums or tracks onto the icon representing the mobile device.
Nokia Music can also act as a playback application and you can 'queue' up music for playback on the PC.
Here is the main screen of the application: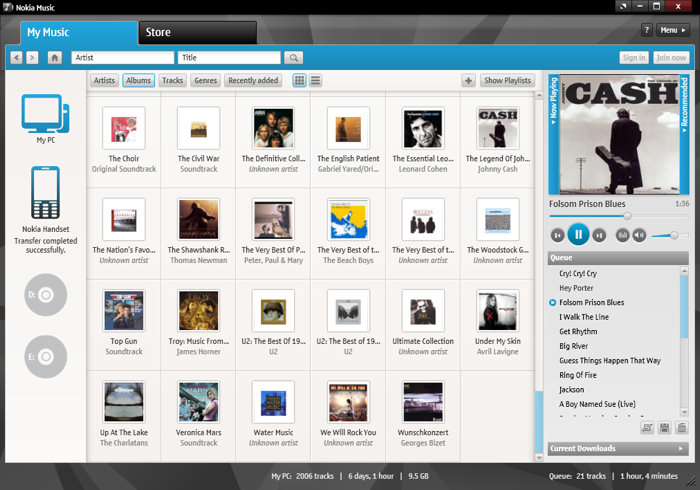 By default, the application uses Album Art to identify and list the various music tracks on your PC. However, you can switch to a text only mode, which is, currently, a little faster to use, presumably because it is less processor intensive.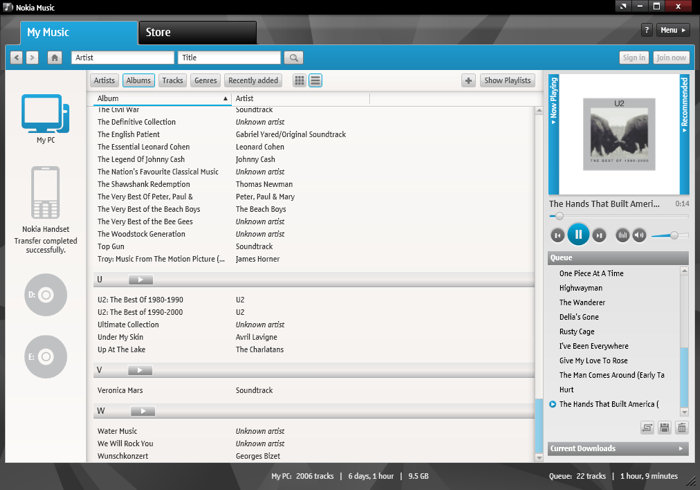 The application has excellent support for playlists. These can easily be created and edited within the application, but will also bring across playlists that you have created or edited on your mobile device. Given that most people probably will not have room for their entire music collection on their phone, playlists are important because they allow for a high degree of control over what gets transferred to your mobile device.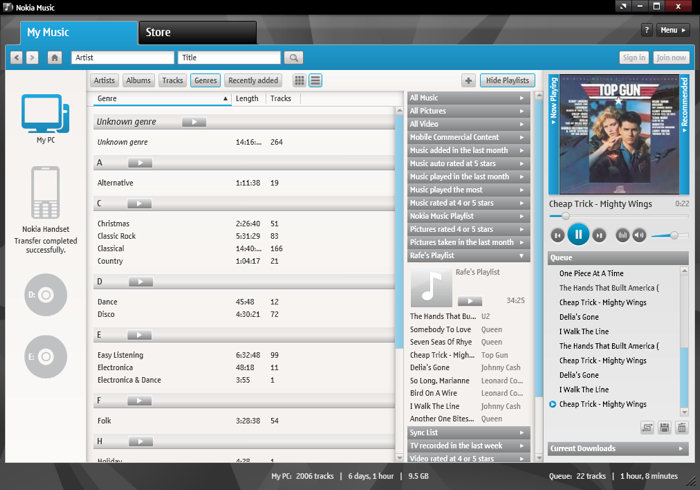 When you connect a phone for the first time, you are given a choice to set up an auto-transfer relationship. This means transfer can be set up to happen automatically when you connect a device. There are various options to choose from, including 'all music', 'recently played', 4 or 5 star rated, 'recently purchased' and by playlist. Subsequent transfers will take place automatically when you connect a device.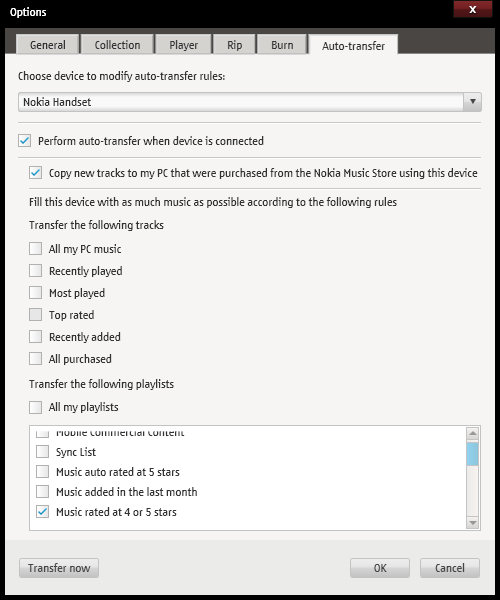 A nice touch is a tutorial screen which is shown the first time you start the application: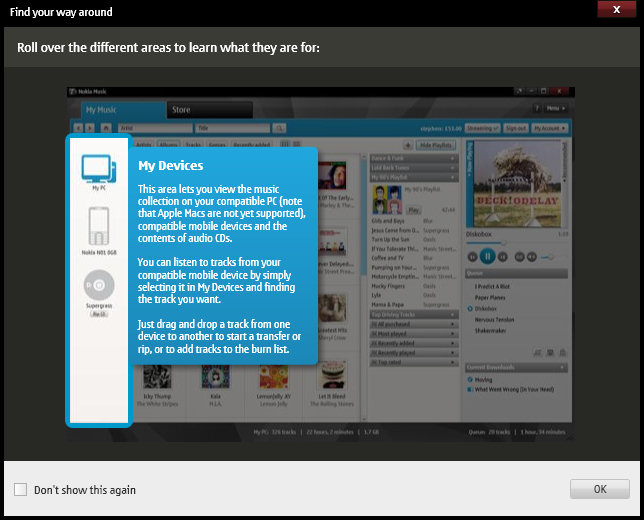 There are a number of noteworthy (technical) points:
The software uses the MTP (media transfer protocol, as originated by Windows Media Player) to transfer songs to a device. It can therefore be used by any non-Nokia MTP-capable device (e.g. Motorola Z8 and Z10).


The software uses Microsoft's new WPF technology (a graphical sub-system of .NET 3.0). According to the post on Beta Labs it will allow some innovative enhancements in the coming months.


The Nokia Music Store part of the software is not enabled at present. When it is, it will bring a variety of extra functions, including recommendations and artwork retrieval features.

The team behind the application are looking for feedback on the current application and what improvements people would like to see in the future. Suggestions and feedback can be given via the Nokia Beta Labs web site.
We'll add to this post as we have a chance to try out the various functions of the application.
Rafe Blandford, All About Symbian, 13 May 2008