The basic version (the trial download) allows you to use the software with one connected client device. This is great if you are just looking to use the software with a single laptop. The software lets you name the hotspot as you like and set security settings (WEP).
In use, the software should provide 2 or 3 hours of usage, understandable it is a power intensive application. In my tests WalkingHotSpot was stable and trouble free - it is impressive to see the first release of the software so mature. TapRoot, the developers, have been around the Symbian world for a long time and they are intimately familiar with Symbian networking internals.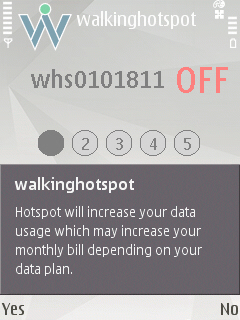 WalkingHotSpot turns your phone into a WiFi hotspot. It uses a cellular data connection (GPRS, EDGE or 3G)
to provide Internet connectivity to WiFi client device.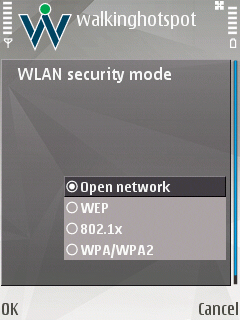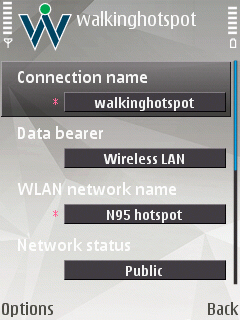 The settings include the ability to use a secure network, change the
hotspot name and use different power levels (conserving battery life).
The full version (which will be available via operator partners) has a number of extra features, including support for multiple connected devices (e.g. imagine sharing one phone connection with 5 laptops when in a business meeting). There are also more advanced settings, including the ability to display extra information about the connection, and more advanced power (automatic turn off at low battery levels) and connection (auto connect) management features.
Here are a few screenshots from the advanced version showing the software running with multiple connected clients: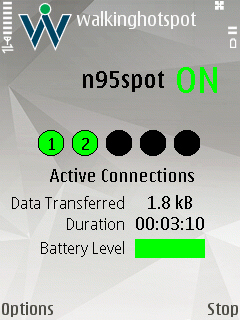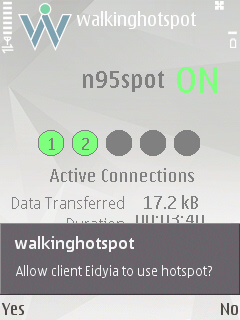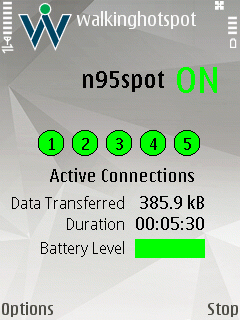 During testing I didn't have 5 laptops to hand, but here's a picture showing a laptop, an E51, N95, E90 and iPod Touch, all using the connection provided by WalkingHotSpot, running on the N95 8GB (left hand side):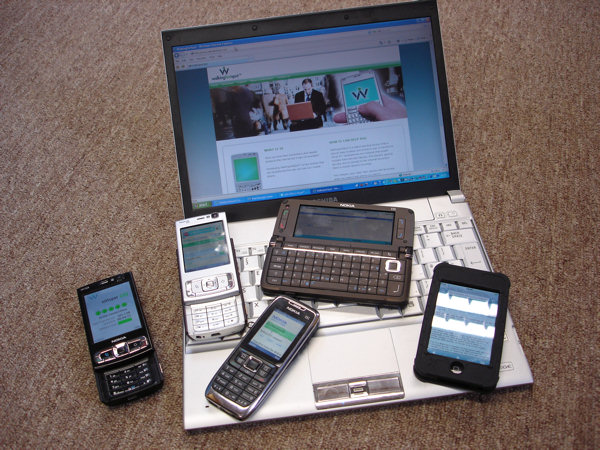 The set up proved to be very stable, though will use more power (mainly because more devices will use more bandwidth).
You can download the trial software from the WalkingHotSpot web site.
Here is an extract from the press release:
"We are very excited to see the level of interest and positive response from people around the world to our WalkingHotSpot announcements. This demonstrates the need for a true carrier-grade product developed and supported by a group of seasoned professionals. This level of interest also shows a significant demand for consolidated anywhere, anytime, any-device connectivity. Our belief is that WalkingHotSpot provides the solution to leverage existing 3G infrastructure and smartphones already in the marketplace" said Bob Bicksler, TapRoot's CEO.
"While we are releasing a free trial version of the WalkingHotSpot solution, it is important to understand that the feature set we are releasing will not compete with products offered by our carrier partners" Mr. Bicksler added.
The carrier version of the WalkingHotSpot solution supports multiple devices simultaneously through secure connections. The application is specifically designed to be power-efficient, robust and end-user friendly. The solution is commercially available for immediate implementation in carriers' networks.