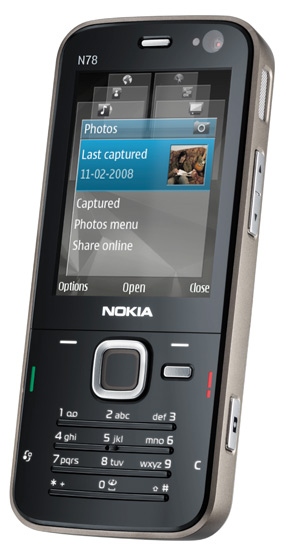 What is clear is the consistent style of the latest Nseries devices has been decided on. With a Multimedia Menu Button and NaviWheel, the physical interface started on the N81 has carried on into the N78 (and the N96), which should please software developers (and give the N-Gage developers some consistency as well). The candy bar format of the N78 is likely to go down very well in a number of territories, including America.

This also appears to be the 'basic' Nseries device which will be in the lower reaches of the price range, helping to get Nokia's ideas of the new mobility to the internet to the mass market.
Will be shipping in Q2 2008 at roughly 350 Euros before tax or network subsidy.
Press Release and Specs
Integrated A-GPS
Audio playback time up to 24h
Music player with integrated FM transmitter (88.1 - 107.9 MHz)
CMOS 3.2 megapixel (2048 x 1536) autofocus camera with Carl Zeiss optics, LED flash and up to 20x digital zoom. Automatic tagging with capture location.
2.4" QVGA (240 x 320) display with 16 million colors
Mobile broadband with WLAN and HSDPA
Multimedia menu and NaviTMwheel for accessing content
Take up to 1500* tracks with you on a pre-fitted 2GB memory card