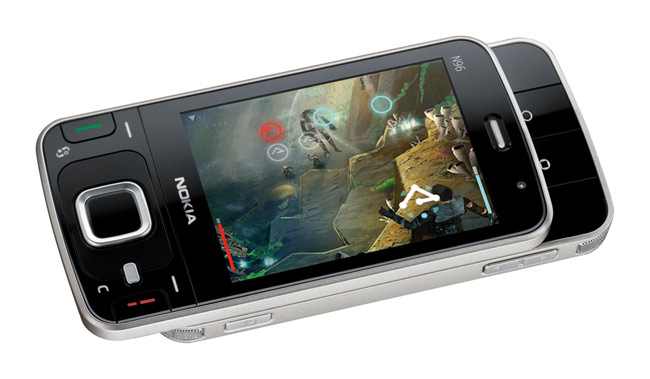 Looking much like a bigger brother to the N81 than to the N95 8GB, the N96 still has the specs to go straight in at the top of Nokia's Nseries line-up. The inclusion of DVB-H, a full 16GB of flash memory and a microSD slot take it significantly above the N95 8GB, with all other specs (including GPS, Wi-Fi, 5mp camera, 2.8" screen, etc.) the same.
Having used the N81 for a while, I have a few concerns over build materials and screen contrast in bright light, hopefully we can report more on this in the next few days. Note that the dual slide arrangement has been tweaked slightly since the N95, with music controls now 'light up' functions rather than hard coded keys, and with game control functions coming to the fore when playing N-Gage games.
The inclusion of S60 3rd Edition Feature Pack 2 was a given, of course, one of the first devices to have the tweaked S60 interface with more obvious multi-tasking. Flash Lite 3 (with Flash video) is here from the outset of course, just as in the latest N95 8GB firmware.
As some bloggers have noted, the presence of a smallish 950mAh battery is also a concern, let's hope there are significant optimisations under the hood to ensure that the problems experienced with the original N95 don't recur...
Hands-on comments from Rafe will follow in due course. On with the specs:
Supported networks
UMTS networks (WCDMA 2100/850; HSDPA)
Quad-band operation in GSM 850/900/1800/1900 networks (EDGE)
Automatic frequency band and mode switching
DVB-H, class C, 470-750 MHz
Dimensions
Volume: 92 cc
Weight: 125 g
Length: 103 mm
Width: 55 mm
Depth: 20 mm
Memory
16GB of internal flash memory, memory expansion via hot-swappable microSD memory cards
Approximate storage capacity is 16GB disk space:
– Video: 40 hours
– Music: 12,000 songs
128Mb of RAM, 256Mb of system memory (operating system plus dynamic memory for user data)
Operating Hours
Battery: Nokia Battery BL-5F, 950 mAh
Talk time: GSM: up to 220 min; UMTS: Up to 150 min
Stand-by Time: GSM: Up to 220 hours; UMTS up to 200 hours
Video playback: Up to 5 hours (in offline mode)
Music playback: Up to 14 hours (in offline mode)
TV Play: Up to 4 hours (DVB-H)
Display and user interface
QVGA TFT display with a 2.8" screen and 16.7 million colours at a resolution of 240 x 320 pixels
User interface: S60 3rd Edition, Feature Pack 2
Active standby mode, multimedia menu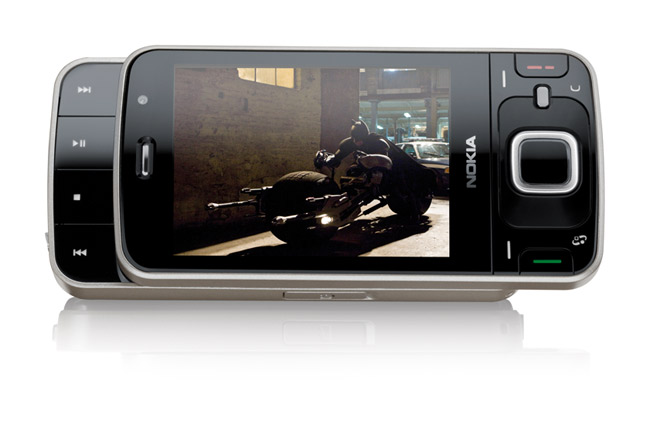 Video Center
Video Center: Central application for video experiences
Access to the recent play videos and simple continuation of play
My Videos: collection of videos stored in the device
Access to Internet video, compatible with news feeds and video podcasts, updates and downloads directly over the cellular network
Catalog for new Internet video
Video codecs and formats
MPEG-4 Part 2 (H.263/SP), up to VGA at 30 frames / s codec with hardware acceleration, max. QVGA on the screen of the device, max. SDTV on TV Output
MPEG-4 Part 10 (H.264/SP), up to VGA at 30 frames / s codec with hardware acceleration, max. QVGA on the screen of the device, max. SDTV on TV Output
Windows Media Video (WMV9), up to CIF / QVGA at 30 frames / s codec with hardware acceleration, max. QVGA on the screen of the device, max. SDTV on TV Output
Real Video (QCIF) with 30 frames / s
Support for Flash movies in Internet Browser
Digital rights management: OMA DRM 1, OMA DRM 2, WM DRM (Windows Media DRM)
Live TV
DVB-H-based mobile TV with integrated antenna
DVB-H, class C, 470-750 MHz
Access to videos on the browser
Downloading, streaming and playback during download
Support for Flash movies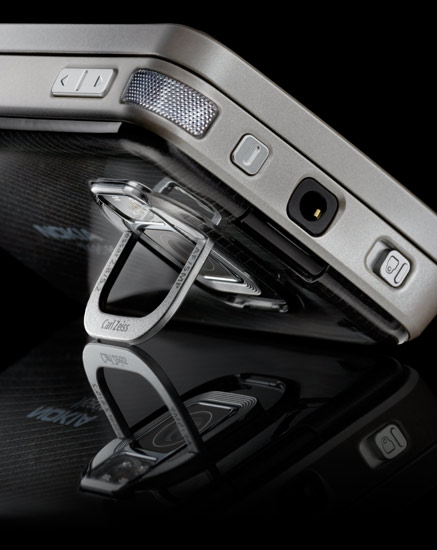 Music
Digital music player - support for MP3, AAC, eAAC +, WMA and album cover
Editing and sharing playlists
Equalizer and visualization of sounds
Online search and purchase music tracks in Nokia Music Store - with support for WM DRM-protected files (Windows Media DRM)
Radio
FM stereo radio (87,5-108 MHz) with support for RDS; possibility for the use of the VHF radios in offline mode
Nokia Internet Radio
Main Camera
Up to 5 megapixels (2,592 x 1,944 pixels)
Optics by Carl Zeiss
Autofocus, automatic exposure control
Aperture: F2.8
Focal Length: 5.2 mm
Focus range: 10 cm to infinity
Two flashlights (LED), video light, lighting-support autofocus and recording progress indicator
Second Camera
Video recording function
Video recording in MPEG-4 format, with up to VGA 30 frames / s
Digital video stabilization
Video clip length: Depends on available space
Video File Format: MP4 (standard), 3GPP (for MMS messages)
Program settings for automatic, a video light, white balance and color mood
Photography
Photo Resolution: Up to 5 megapixels (2,592 x 1,944 pixels)
Format for photographs: JPEG / EXIF
Details on the recording location: Automatic recording of information on location in the image file
Program settings for automatic, flash, serial shots, self-timer, color humor, white balance, contrast, exposure correction, help
Discover
Digital maps and navigation
Integrated GPS module with support for A-GPS (Assisted GPS)
Nokia Maps application
Free downloadable maps for more than 150 countries, millions of locations, location details and satellite images **
To purchase upgrades available multimedia travel guides and navigation services for the car navigation Sprachgestützte
For pedestrians: Special optimized for pedestrian navigation with Directions
E-mail and Messaging
Easy-to-use e-mail client with support for attachments (photos, videos, music files, and text documents)
Support for e-mail protocols SMTP, IMAP4 and POP3, as well as for MMS and SMS messages Common SMS-/MMS-Editor
Compatible with Nokia Wireless Keyboard SU-8W (optional)
Mobile Internet Access
Nokia Web Browser with Mini Map function, visual history display, support for HTML and JavaScript, Flash Lite 3.0, and for Flash videos
Support for news feeds (RSS)
Connection options
WLAN (IEEE802.11 g / b) with support for UPnP (Universal Plug and Play)
USB 2.0 micro-USB port (Type B)
3.5-mm jack for connecting a standard headphone and TV output for connecting a TV for playback of photos and videos (PAL / NTSC)
Bluetooth 2.0 with support for stereo audio transmission (Bluetooth profile "Advanced Audio Distribution (A2DP), and EDR (Enhanced Data Rates)
Use of Nokia PC Suite for Nseries devices (PC software), in conjunction with Bluetooth wireless connections or cable connections to the USB port compatible PCs
Standard package
Nokia N96
Nokia battery BL-5F
Nokia data cable CA-101
Nokia video output cable, CA-75U
Nokia Stereo Headset-HS-45, with remote AD-54
Nokia cigarette lighter charger cable DC-4
Nokia compact AC-5E
---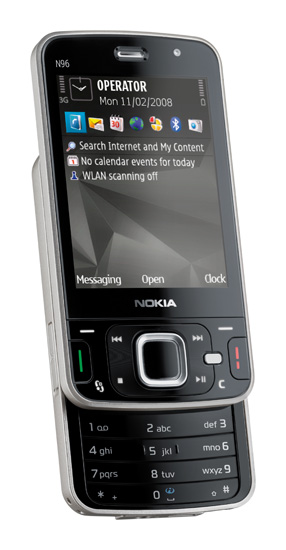 ---