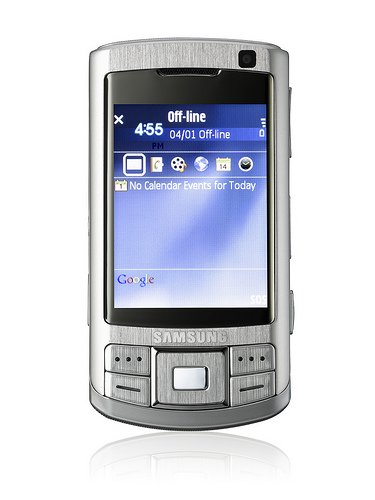 ---
Here's the Samsung press release:
Samsung Electronics Co., Ltd, a leading provider of mobilephones and telecom systems, confirms its status as the industry's most innovative, exciting and inclusive handset vendor by launching multiple lifestyle-focused handsets at World Mobile
Congress 2008.
Led by the new Ultra Edition handset - a phone of outstanding craftsmanship, beauty
and latest technology, Samsung's stunning lineup will help consumers stand out from the
crowd, whatever phone they choose to use.
Music fans, business users and fashion followers alike will be wowed by Samsung's latest range
of handsets which deliver style and substance without compromise. Even the entry level handsets
combine great design, usability and technology, showing that Samsung puts its heart and
into everything it does.
Geesung Choi, President of Samsung's Telecommunication Business, says: "Samsung has
developed its mobile brand to offer consumers the best in design and quality. Now, we are
ready to add wider choices of mobile phones to match every individual consumer's need,"
Adds Choi: "Samsung will continue to offer consumers exciting mobile experiences through
innovative technology and design. The product range at this year's Mobile World Congress
shows that we truly understand our customers and what they desire from their mobile handsets,
both now and in the future."
The inspiration for this year's range is built on Samsung's belief in offering real choice to mobile
users, covering a wider market demographically and geographically. Its phones are a combination
of modern design coupled with the latest features. The success achieved in the style-conscious
mobile market - from the T100, the first color TFT LCD phone through to the Ultra Edition - has
not only helped make Samsung the second largest mobile phone provider in 2007 but also
confirmed its credentials as the world's hottest mobile phone manufacturer.
- the Ultimate Essence of Mobile Meaning 'The Sprit of Ultra', is the completion of the Ultra Edition, which represents the pursuit of the perfect balance between looks and features. Slim and lightweight yet still boasting HSDPA connectivity and a 5-mega pixel camera, demonstrates Samsung's leadership in both technology and design.
Despite being only 12.9mm thin, it has professional photographic functions including a 5 mega-pixel
camera with power LED, face detection, image stabilizer, and Wide Dynamic Range (WDR) for
advanced photography. 7.2 Mbps High Speed Downlink Packet Access (HSDPA) is supported
for fast browsing and downloading. Enhanced music functions include music library navigation,
and ICEpower digital power amplifier technology by Bang & Olufsen. Magical Touch by
DaCP™ enables simple and intuitive navigation of menus by changing the keypad functions
depending on each user's needs.