Another Trolltech product is Qtopia, an application platform for Linux devices, a subset of this product Qtopia Phone Edition is aimed at mobile phone usage.
Nokia will offer NOK 16 per share in cash for TrollTech suggestion an overall valuation of approximately £84 million. The acquisition is subject to the usual regulatory and share holder approval. Nokia expects to complete the acquisition in Q2 2008.
Nokia indicates that the acquisition of Trolltech will enable it to accelerate its own cross-platform software strategy for mobile devices and desktop applications. Developers will be able to create applications that work in the Internet, across Nokia's device portfolio and on PCs. Nokia will enable this by providing cross platform development environments. This is an existing part of Nokia's developer strategy (Web runtime, Flash, Java and Open C are current examples of cross platform environments). However Qt has, potentially, a greater ability to link PC and mobile development that other technologies that Nokia utilises.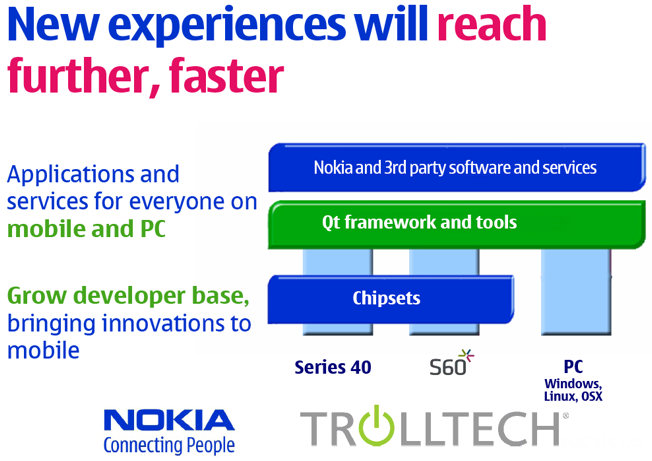 Here is a slide from the Nokia press announcement that shows Nokia cross platform strategy in relation to Trolltech.

Thus the acquisition can be seen as the purchase of an essential building block in enabling its software and Internet services strategy. A key part of the thinking behind Ovi was that it would be cross platform (recall that Ovi has a mobile, Web and PC component) and would embrace open technologies.
"The technology landscape evolves and, for Nokia, software plays a major role in our growth strategy for devices, PCs and the integration with the Internet. We continue to focus on areas where we can differentiate and add more value. Common cross-platform layers on top of our software platforms attract innovation and enable Web 2.0 technologies in the mobile space," said Kai Öistämö, Executive Vice President, Devices, Nokia. "Trolltech's deep understanding of open source software and its strong technology assets will enable both Nokia and others to innovate on our device platforms while reducing time-to-market. This acquisition will also further increase the competitiveness of S60 and Series 40."
The acquisition further burnishes Nokia's open source credentials and affirms its strategy of an open approach to technology. It gives Nokia a considerable talent pool and culture of open source use and creation and makes it a significant part of the open source community.
"Trolltech and Nokia share the goal of accelerating the adoption of Trolltech's Qt based technology in the commercial market and in the open source community," said Haavard Nord, CEO and founder of Trolltech. Eirik Chambe-Eng, Chief Troll and co-founder of Trolltech continues "We are thrilled to join forces with Nokia. The company's innovative culture and resources will give our employees new and exciting possibilities and fulfill our vision of "Qt everywhere"."
Nokia will continue to develop Trolltech product portfolio and continue to license Trolltech's technology under both open source and commercial licenses.
Trolltech is best known in the mobile space for its Qtopia software platform. Notable has been the release of its
Greenphone
and related products and SDKs. Due, at least partially, to its activities in this space Trolltech is a member of
LiMo Foundation
, an alliance aimed at creating a Linux based software platform for mobiles phones. This can be seen as a direct competitor to Nokia's S60 platform. However it is likely that Nokia considers the Qt related assets as the driving force behind the acquisition, although the assets related to Qtopia should be carefully noted too.