This is a follow on from our earlier run down of the Nokia N82.
N82 Virtual Launch Event
Rather unusually for an Nseries device launch the N82 launched via a virtual event on the Nseries website. You can still access all the material from the event, including an introductory video (which was filmed on a Nokia N82), a product demo video and a range of other material from the Nseries website.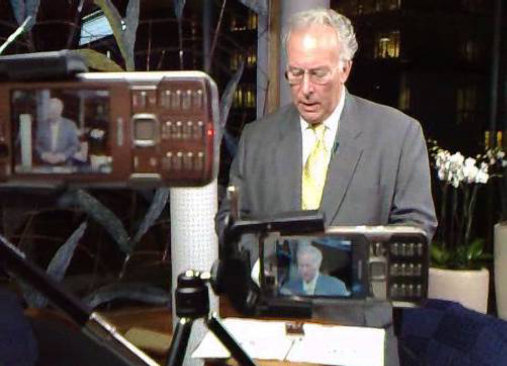 As part of the event there was a chance to ask product managers questions which revealed a few extra pieces of information. Firstly a software update is expected in the new year which will allow you to geotag (record location information) photos. An additional colour variant will also be released in due course (eagle eyes may spot the Black N82 in the product manager's hand during the demo video). The auto screen rotation function is user configurable (meaning it can be switched off). Although there is no Ovi branding within the phone itself the N82 will fully support the software and services grouped under the Ovi umbrella brand: Nokia Maps, N-Gage, Nokia Photos and Nokia Music.
One of the biggest complaints about Nseries device camera is they tend to be a bit slow. The N82 aims to address this problem and initial reports indicate faster start up and capture times. Nokia provided a table of data to demonstrate this:
| | | |
| --- | --- | --- |
| | Typical cameraphones | Nokia N82 |
| Start-up | 3.2-4.0 seconds | 2.4 seconds |
| Shutter lag | 0.25-0.55 seconds | 0.15 seconds |
| Shot to snapshot | 5.1-6 seconds | 1.6 seconds |
| Shot to shot | 5.1-5.8 seconds | 3.4 seconds |
| 3A latency | 1.7-2.4 seconds | 1.7-2.3 seconds |
N82 from around the web
You can read our run down of the Nokia N82 here, this summarises what you need to know about the Nokia N82. You can also check Forum Nokia for the full technical specifications (332 MHz process with 3D graphics hardware accelerator, 128 MB RAM). Ricky has a recap of the Q & A from the virtual event on Symbian-Guru. The blog Me and My Phone has a personal review of a prototype Nokia N82. James Burland has a comparison of the photos from an N82 and an N95 8GB. Symbianworld has a quick first impressions post and unboxing video.

The WOMWorld team have uploaded a number of images to Flickr some of which shows case the N82 and some more here. There are also some great photos from the Flickr user lonelybob. Mark Guim (Nokia Blog ) has also uploaded a collection of photos to Flickr as has pseudofinn (including some camera capture samples). WOM world also have their usual round up of blog and forum postings relating to the N82. Devin from the Nokia Guide has some comparison shots of the N82 with other Nseries devices and has also posted some initial impressions. There's also a nice comparison photo and some commentary over on symbian.smashpop.net.
There are a few videos on YouTube too. Here's one about someone trying to get rid of all his existing camera equipment so that can he use his N82. Lucky the N82 has a Xenon flash too - the party he visits seem to have especially poor lighting.
Here's a video the describes the designs thoughts behind the N82. This video is also available on the virtual event site.
If you've got something else to share please leave a note in the comments.