Hardware / Images
Here are some pictures of the N95 8GB taken by the FCC during testing and included in this report along with some other images.
The softkeys and directional controls appear smaller than the N95 classic suggesting either a larger screen or a slightly smaller device (or possibly just a design tweak).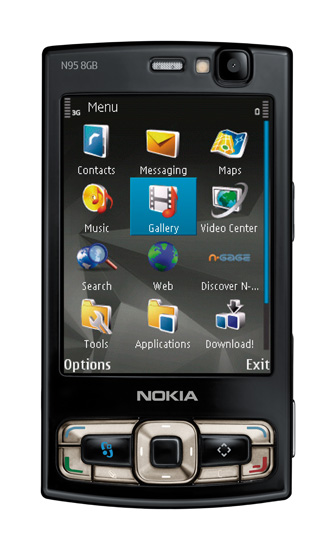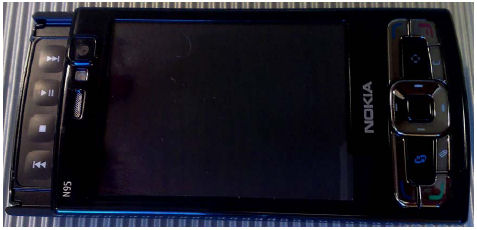 The N95 8GB specification is likely to be similar to that of the N95 classic: 3G with HSDPA support (2100MHZ), WiFi connectivity (including support for UPnP), a 5 megapixel digital camera, on board GPS (with support for A-GPS), and a 3.5mm audio jack for headphones, loudspeakers, headsets and TV-Out. The exception is the 8GB of memory; all the indications suggest this is internal flash memory in place of the microSD card slot.

Software / Manual
In the software manual there are a number of items of interest. You can download the manual from the FCC site here.
The manual mentions a Nokia Music Store (likely part of the forthcoming Nokia announcement) in which you can search for, browse and purchase music. The music section of the manual also suggests that Windows Media Player is likely to be used as the syncing tool to get music from your PC to your phone.

The Multimedia menu screen has been reworked into a different style as shown in the screenshot below.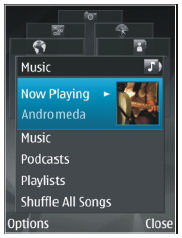 The manual notes that the Multimedia menu (used to 'view your most frequently accessed multimedia content') can be used to access various categories. These are Music (Music Player, and podcasts), Gallery (pictures and albums), Games (Nokia Nseries games), Maps (Nokia Maps), Internet (Web), Contacts (add contacts, make calls, send messages) and Video (Nokia Video Center).
The manual also notes that the Nokia N95 8GB is compatible with the N-Gage Gaming experience and comes with one of two applications: either Discover N-Gage or N-Gage.

Manual Quote:
Discover N-Gage application — With this preview application you can get information about the upcoming N-Gage gaming experience, try out game demos, and download and install the full N-Gage application when it becomes available.

N-Gage application — The full featured application gives you access to the complete N-Gage experience. You can find new games, try and buy games, find other players, and access scores, events, chat and more.

The manual also mentions as mass memory application used to manage the 8GB of internal memory.
It is likely that the N95 8GB will be announced at Nokia forthcoming launch event in London on the 29th August.
Thanks to KP for the heads up. (Later edit: also mail from WirelessInfo).