The beta seems reasonable stable, although as a Java application it does use a fair amount of RAM on Symbian devices. The rendering is good, although not quite perfect in places. However it is very impressive to see this sort of application created in Java and given it can run on a great many devices should prove popular.
Web pages are not rendered in exactly the same way you would see them on a PC. Instead text is rendered in to columns which are are the width of your phone's screen. This minimises the amount of scrolling needed when reading text.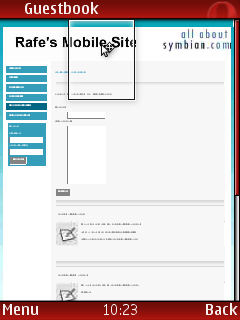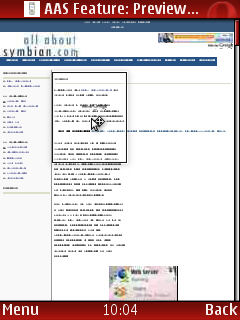 As before Opera compresses the pages and images on the server side before it sends them to the phone. This means pages load more quickly and less data is consumed than traditional browsers. The side effect of this is that is much more practical to browse full web pages rather than mobile version. A good example of this is the BBC News website, Opera says it takes around 40kb in Opera Mini versus 240kb in other mobile browsers. Opera tested against the S60 web browser running on an N93 on a UMTS (3G) network and found that Opera Mini 4 was on average twice as fast. My own tests suggest there is a significant difference, but it might not be as large as Opera suggest and of course there are other factors to take into consideration.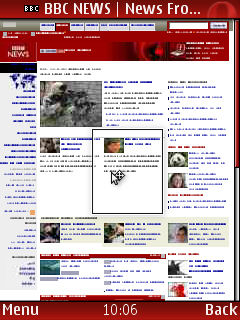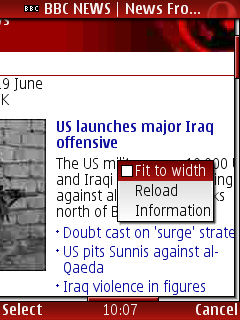 The previous version of Opera Mini used a fit to screen model (effectively squashing a website into one thin column). This works quite well on a mobile device and although the full page view is now the default you can switch to fit to screen in settings or via the new context menu (as shown above).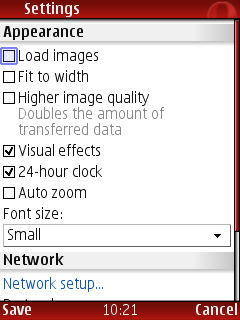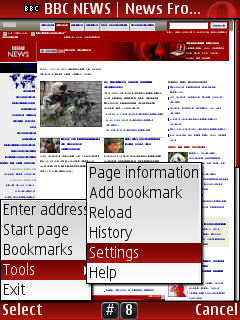 The new mouse and power scrolling features make moving around the enlarged pages (compared to the previous version) much easier. It is among the fast navigation experience around a page that I've seen on any mobile browser.
Opera Mini 4 is not yet fully featured, notably some of the security features found in version 3 are not present. Opera says it will adding these and additional features later.
You can see more information on Opera Mini 4 here. We'll have a full review once it is out of Beta.