The R5A17 (Organizer number) firmware upgrade for the P990 is what Sony Ericsson should included in the device since the very beginning, ideally. Still, it's here now. Read on....
Transition or no transition?
One of the most frequently requested feature additions in the P990 was transition effect management. It's all about that little graphic effect where everything in the system was animated. In the previous firmware revisions, there was no way this could be disabled, but it's now a relic. Users can disable it from Control Panel - Device - Transitions. Phew.
Users who are not bothered about the transition effects can still use it. But for those who want to feel the P990's real speed, just switch them off. The system is faster, scrolling contacts and reading text messages are more comfortable, applications launch in a snap and you feel that the P990 is finally behaving like its predecessor, the ultra stable P910.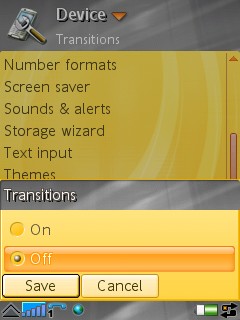 Memory management
I can say that the new firmware is better in terms of stability. Most apps use less RAM compared to under previous firmwares. Multiple applications can be launched and used extensively. to It is now possible to open Messaging and Projekt together with Music Player and monitor all this using SMan. All this with Exchange ActiveSync running in the background as well. However, the web browser is still memory-hungry and it is not possible to run heavy apps like DreamConnect3 together with Opera. Since the firmware update last week, our P990 unit has never switched itself off or displayed the notorious "Phone restarted to improve performance" message - this is very good indeed.
Other improvements
The new firmware also has a couple of other improvements. Among them are the faster loading time for Java Midlets. For example, it used to take around 30 seconds to load Opera Mini but now it is only 10 seconds.
On the cosmetic side, there's a nice pogress bar displayed under the Sony Ericsson logo when booting, showing the indicator of the startup process. It's not a huge addition but it gives us something to look at while the device is booting up.
The camera is also improved, I noticed that the photos are clearer, sharper and colour balance is about right. Suffice to say that the quality is improved. On the multimedia side, it is now possible to play WMA and WMV files directly, although not all WMV files seem to be compatible yet.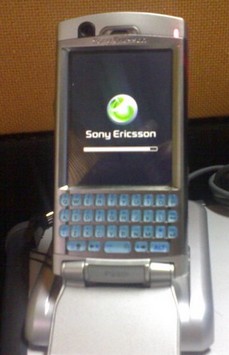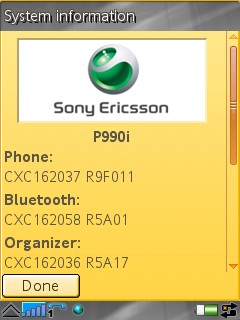 Is that it?
Well, no. I have only talked about the good stuff and haven't touched on the bugs. Some of these were inherited from the very first public firmware, 9 months ago. For example, some options in the dropdown menus mysteriously disappear when you use other apps and then, when you get back to what you were doing, they reappear. Wierd.
Another evident bug is the speaker sound. It became very soft/quiet with this firmware. Compared to the previous firmwares, it's very low. For example, I can't rely on the alarm anymore. The multimedia volume has been adjusted to maximum but the sound is still low.
Am I satisfied?
In many ways, yes. I am very satisfied with what the P990 has become. It is now capable of doing things it was never able to do before, especially when it comes to multitasking. It is also worth mentioning that Sony Ericsson's track record in upgrading firmware has proven to be good, if a little slow. Look at the P800. When it was first released back in 2003, the firmware did not satisfy the early adopters but Sony Ericsson released many revisions and finally the P800 became very stable. It is hoped that Sony Ericsson will continue upgrading the P990 in the same way. If R5A17 is a sign of things to come, I cant wait ;-)
Asri al-Baker - April 23rd, 2007