Current S60 phones that are capable of playing H.264 are the the N75, N76, N80, and N93 (unconfirmed - some may require a firmware update) [Update: support for H.264 does not seem to guarantee playback, see the comment thread] and all S60 3rd Editions Feature Pack 1 phone - N95, Nokia 6290, Nokia 6110 and Nokia 5700. Officially only the 6290, 6110 and 5700 are supported, but that may be because the tool comes from the Mobile Phone rather than the Multimedia group.
H.264 is a good format to use because it is noted for achieving high data compression rates - this means it will result in smaller video files than other formats at the same quality level. It is the same format used in videos for Apple's iTunes service.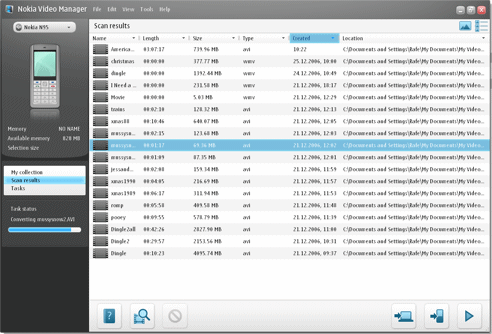 Video Manager can detect a connected Nokia phone and will allow you to directly copy videos to your device. If necessary it will transcode (change the format) the video for optimal playback on the device. You can also covert videos without a phone being connected and store them on your PC ready to copy them to your phone. The software can also play back videos so you can view your videos before they are copied to the phone.
The software will automatically scan a given set of folder for video files which are then listed in the main view. These can copy and converted to either the phone (if connected) or the PC. There are three level of video quality (low, medium and high) which can be set in the settings of the application.
The 'My collection' view shows you videos you have converted and copied to your PC and (of connected) any videos stored on your phone. You can use the application to copy videos back to your PC and manage videos already on your phone.
Nokia Video Manager is easy to use and greatly simplifies the process of getting your own video onto your phone.
Nokia Video Manager can be downloaded from the Nokia website.
Thanks to Jukka at the S60 Multimedia Blog for the tip off.