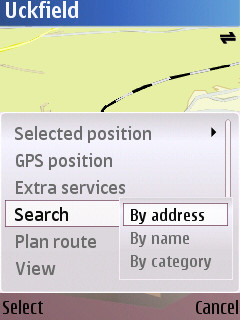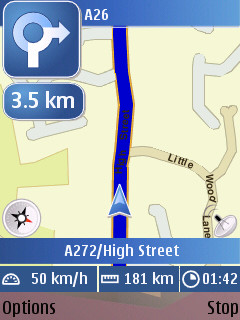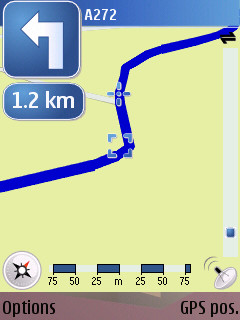 Screenshots from the N95 Maps

Mapping and routing is available in over 100 countries with turn by turn navigation (at street level) available in 30 countries. Mapping can be downloaded over the air from a remote server or cross loaded from a PC. The application includes the ability to search by address (including postcode), view by category (nearest point of interest) and plan routes (show directions).
The platform contains over 15 million POIs that help people explore the most interesting sights, restaurants or accommodations around them. Customers can select their favorite locations and send them to friends by multimedia message, Bluetooth wireless technology, infrared or e-mail. They can also send map excerpts and routes or save map screen shots to the gallery on the device. Recognized brand names like McDonald's will have the option to place branded icons across the world's digital maps downloaded onto millions of mobile devices.

A Bluetooth GPS will be needed for positioning for those devices without a GPS built in.
There will also be a companion PC application that allows you to cross load (install) maps of specific areas to your phone. This will mean it will not be necessary to download maps over the air. You will be able to take the maps that you want with you. Nokia refer to this combined download from PC and download over the air solution a hybrid and that it is 'the best of both worlds'.
Nokia will be offering premium services, these include the aforementioned turn by turn navigation, but will also include city guides and other premium content. At a later date it will be possible to book services (e.g. a hotel) through the application, and advertising may appear at a future date.
Nokia will pre-install Nokia Maps in new Nseries devices and the software will be available as a free download (Smart2Go) for existing S60 devices.
"People will trust and use maps if they have those maps with them when they need them, and smart2go allows consumers the full freedom of which maps they want to carry with them. By offering Nokia Maps and smart2go for free on your mobile device, cost is no longer a barrier for anyone to enjoy the convenience of maps and routing on-the-go," said Ralph Eric Kunz, vice-president, Nokia, Multimedia. "Nokia is on track to build the world's most connected location based platform for mobile devices which also opens up interesting opportunities for future services."