ShoZu features include intelligent upload (resumes aftre interuptions), optional image resizing and multiple destinations (upload once, send to many places) all of which are designed to minimise the time and data traffic required. The program can also track the comments on uploaded photos on some services.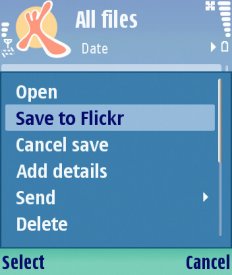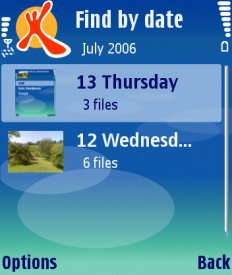 Users can choose to upload all of their images automatically in the background without user intervention, or opt for a prompt before uploading photos after using the camera. Alternatively media can be selected to be sent from the a file browser within the Shozu program.
ShoZu is partly managed from the server side (account and sharing set up). Users can also define other destinations to which ShoZu will send photos. Other destinations that are supported include FTP services, email addresses, many popular blog engines and photo agencies.
ShoZu has recently added a number of server side features and these are accessible to all users. These inlcude support for MetaWeblog API which allows ShoZu to post photos to a wider range of blogs and CMS tools and support for FTP is now also available as a user-selectable destination, as requested by ShoZu users.
Another important update is the ability to specify the "From" address for each custom email destination (previously ShoZu used the email address registered with the user's ShoZu account). This makes email-based secondary destinations more flexible and allows easy integration with email specific services. Email sending has also been improved with the option to define a list of several email addresses in a single destination (by entering multiple addresses separated by semi-colons). You could have one destination for Friends, one for Family, one for Work etc.
The advantage of ShoZu is that once a file has been uploaded it will not need to be uploaded again regardless of how many destination you choose to send it to. This means you can choose to upload a photo to Flickr and then send it to your friends but only pay the data costs for one image upload.