Shape Services description:
IM+ Mobile Instant Messenger supports the most popular instant messaging systems: AOL, ICQ, MSN, Yahoo!, Jabber and Google Talk. It allows the always-on exchange of instant messages easily, cost-effectively and in real-time.

An alternative option to Shape Services' IM+ is Agile Messenger. A beta version for S60 3rd Edition is currently available from the Agile Mobile web site.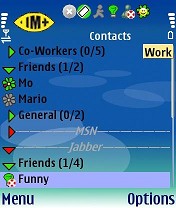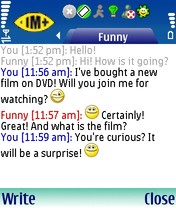 The S60 3rd Edition version is suitable for the Nokia N71, N80, N91, E60, E61, E70, 3250 and other 3rd Edition handsets. Versions for S60 2nd Edition and other Symbian platforms are also available.