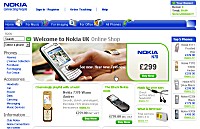 The shop has some competitive pricing for SIM Free handsets. The Nokia 3250, for example, is available in stock for £299. The N70 is also available at £299. The shop also carries a wide range of Nokia accessories.
The shop has interesting implications in trying to move people away from the the subsidised phone retailing model to to the sim free retailing model.

Thanks to Darla for the heads-up.