In addition, there are a number of bug fixes in the new version and overall performance has been improved. For example, the Maps Suite applications open more quickly, and map scrolling and zooming are both fast and smoother.
The key updates and additions for each of the Nokia Maps Suite applications are summarised below.

Maps and Drive
An extra layer, 'Your Photos', is now available in the Maps application. This will overlay photos that you have taken on the map. In order for this to work the photos must be geo-tagged (in most cases this is the default behaviour).
In the Drive application, the landscape view has been improved so that a greater proportion of the screen is used to display the map (the dashboard has been narrowed), making it easier to see the map while driving.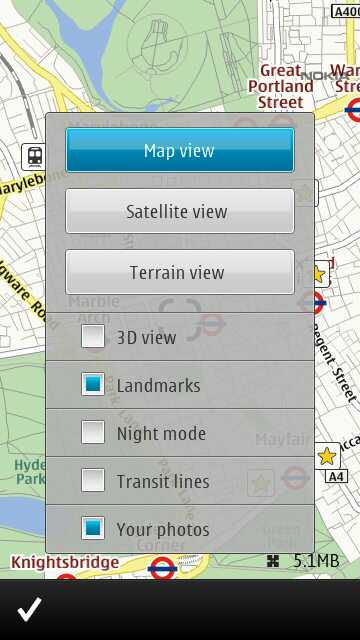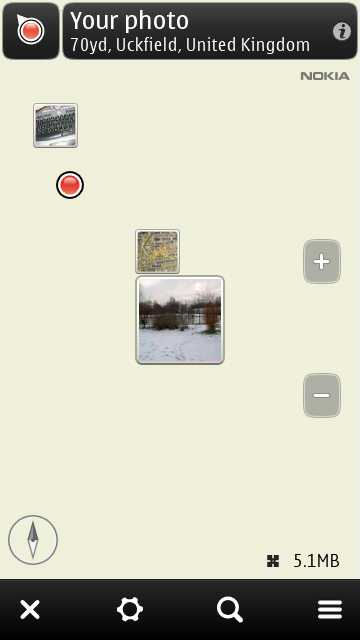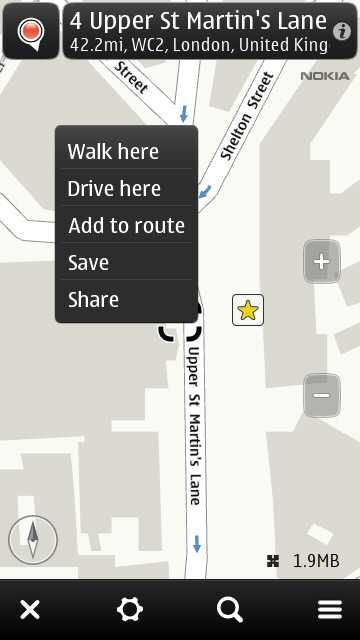 Nokia Maps Suite 2.0 also sees a return of the standalone route planning functionality to the Maps module. This allows you to plan (and save) a route in advance of taking a journey. A location can be added to a route, either directly from the map (via a long-press) or via a search result. Once a route has been calculated, it is shown in its overview form, from where the route can be saved or you can activate Drive mode. Saved routes are accessible from the favourites list in the search view.
The ability to search for a location or place by voice has been added to the search functionality. This is accessed by tapping on the microphone next to the search box. It takes a few seconds to process and return a search result. This allows for easier hands free navigation, which may be useful when driving a car.
During our testing we found a good level of accuracy, with most local place names and local business being correctly identified and found on the first try. The accuracy was significantly better than Symbian's built in voice recognition software. Currently, voice search is only available to users with UK SIM cards.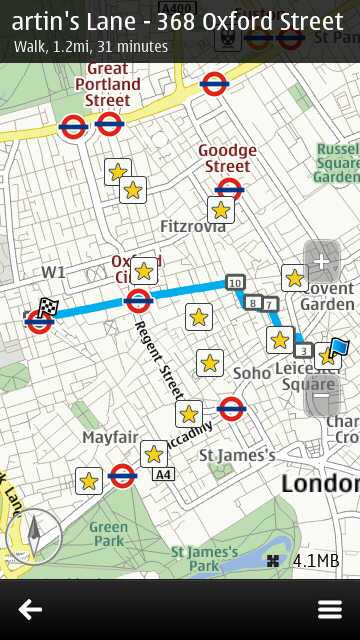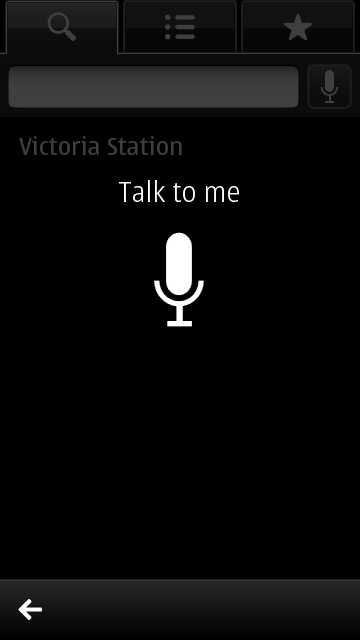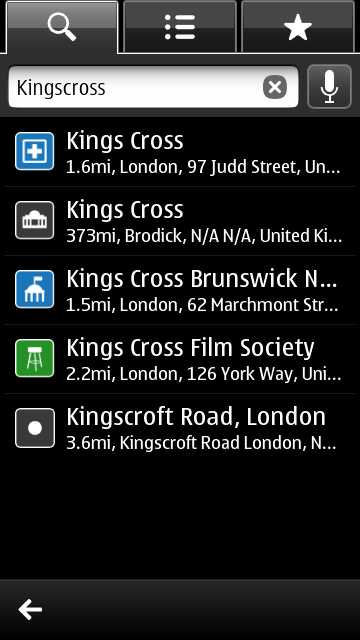 Homescreen Widgets
Included in the beta release are two new homescreen widgets: My Location and Place (in addition to the existing Maps Apps homescreen widgets). Both the new widgets are triple height in size.
The My Location widget shows your current location and provides shortcuts to quickly save the location to your favourites (star icon) and to share the location by SMS (message icon). A single tap on the widget launches the full Nokia Maps application.
The Place widget allows you to explore and interact with places close to your current location. It shows a small map and a scrollable list of nearby places. From the widget, it is possible to view more information about a place (information icon), save the place as a favourite or share a place (share icon). Tapping on a place opens the detailed information page for it, showing reviews and pictures and giving the option to navigate to that place.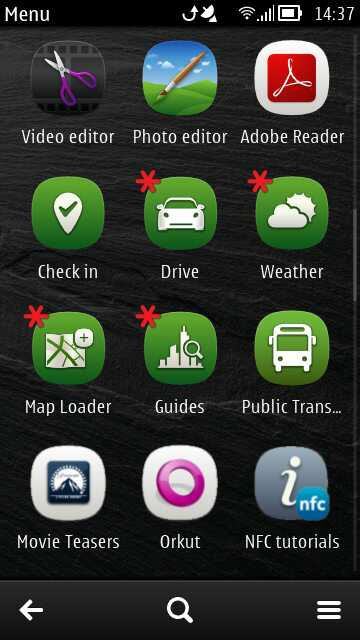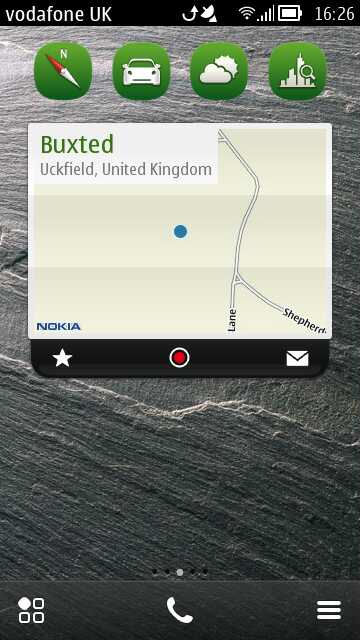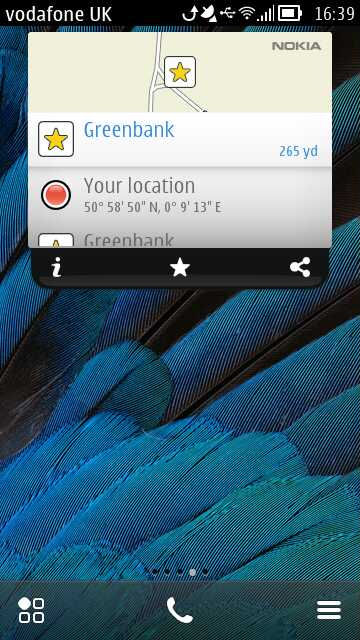 Public Transport
The Public Transport module is now better integrated into other Maps Suite applications. A long-tap on a map will pop-up a menu listing public transport routing options automatically. In addition, it is possible to see public transport options near a specific area (e.g. Kings Cross in the screenshot below).
The routing instructions provided by Public Transport have also been improved, with detailed step-by-step walking instructions making it easier to find the transport station/stop from your current location.
In addition, Public Transport's coverage area has been increased to more than 200 cities and the application is now localised into 40+ languages.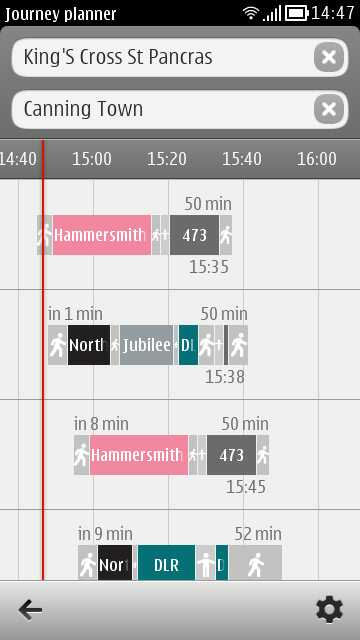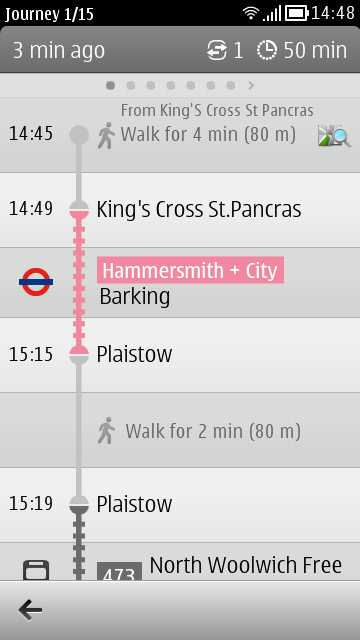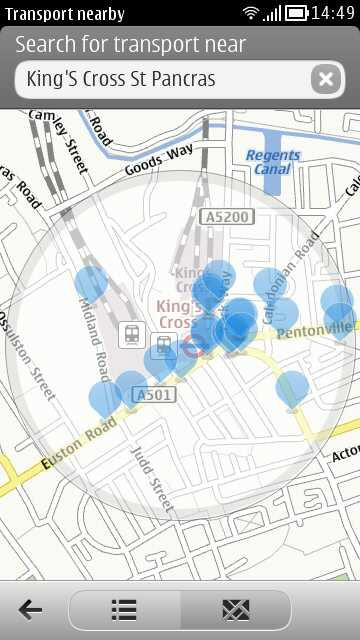 Weather
In Maps Suite's Weather module, a landscape view, as shown in the screenshot below, has been added. In addition, it is now possible to easily see the weather in more than one city. The application allows you to add up to 100 cities to your 'My Cities' list. From the main screen you can switch between cities by swiping up or down on the screen.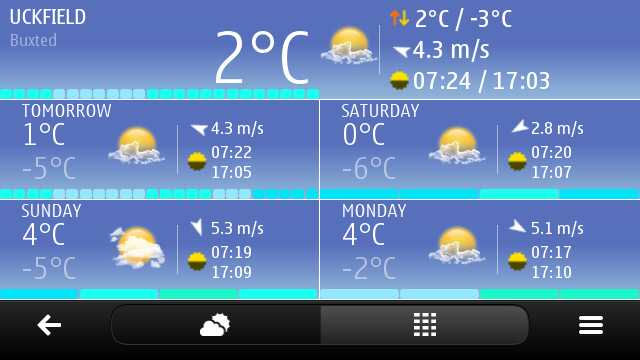 Summary
Taken as a whole, Nokia Maps Suite 2.0 is a significant upgrade, cementing Nokia Maps and its companion applications' position as a leading mobile mapping product. For us, the highlights of the new release are the addition of voice search and the new homescreen widgets.
As with all beta releases, be aware that the application is still being tested, may be unstable and is subject to change. The beta release of Nokia Maps Suite 2.0 can be downloaded from Nokia Beta Labs. It is available for devices running Nokia Belle: potentially the Nokia 603, 700, 701, N8, C7, C6-01, E7, X7, and E6. It is not compatible with devices running Symbian Anna.
Rafe Blandford, All About Symbian, 9th Feb 2012