Gartner reports Nokia's Symbian smartphone sales as 22.4 million (Symbian's total is 23.8 million, including Japan sales), which means it remains the number one smartphone manufacturer.
Gartner's number contrasts with Nokia's own Q2 sales numbers of 16.7 million - a difference of 7.1 million devices. The difference is due to Gartner counting sell through (i.e. direct sales to consumers) rather than sales (i.e. sales to operators and retailers). Operators and other retailers have been de-stocking Nokia devices in anticipation of new Windows Phone-based devices and this was further exacerbated by over-stocking (channel stuffing) in some markets in Q1.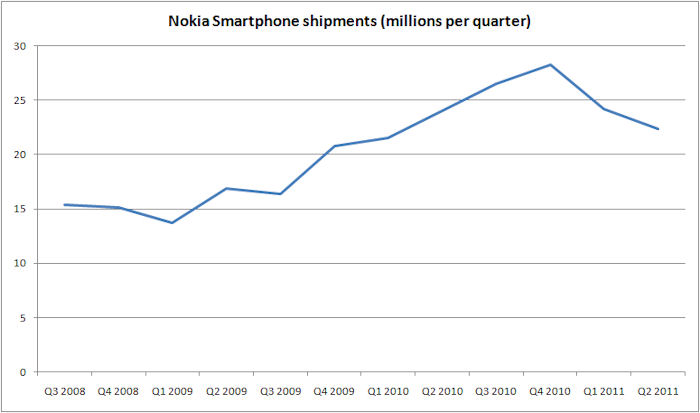 Nokia Smartphone sales with Gartner Q2 2011 'sell-through' number
From Gartner's press release:
"Worldwide sales of mobile devices to end users totaled 428.7 million units in the second quarter of 2011, a 16.5 percent increase from the second quarter of 2010, according to Gartner, Inc. (see Table 1). The channel built up stock at the end of the first quarter of 2011 in preparation of possible component shortages following the Japanese earthquake. As a result, sell-in demand slowed in the second quarter of 2011 to 421.1 million units, a 4.4 percent decrease from the previous quarter. Sales of smartphones were up 74 percent year-on-year and accounted for 25 percent of overall sales in the second quarter of 2011, up from 17 percent in the second quarter of 2010.

Smartphone sales continued to rise at the expense of feature phones," said Roberta Cozza, principal research analyst at Gartner. "Consumers in mature markets are choosing entry-level and midrange Android smartphones over feature phones, partly due to carriers' and manufacturers' promotions." However, replacement sales in Western Europe showed signs of fatigue as smartphone sales declined quarter-on-quarter."
Worldwide Mobile Device Sales to End Users by Vendor in 2Q11 (Thousands of Units)
Vendor

2Q11

Units

2Q11 Market Share (%)

2Q10

Units

2Q10 Market Share (%)

97,869.3

22.8

111,473.7

30.3

Samsung

69,827.6

16.3

65,328.2

17.8

LG

24,420.8

5.7

29,366.7

8.0

Apple

19,628.8

4.6

8,743.0

2.4

ZTE

13,070.2

3.0

6,730.6

1.8

Research In Motion

12,652.3

3.0

11,628.8

3.2

HTC

11,016.1

2.6

5,908.8

1.6

Motorola

10,221.4

2.4

9,109.4

2.5

Huawei Device

9,026.1

2.1

5,276.4

1.4

Sony Ericsson

7,266.5

1.7

11,008.5

3.0

Others

153,662.1

35.8

103,412.6

28.1

Total

428,661.2

100.0

367,986.7

100.0
So Nokia remains number one and sold almost 100 million phones during the quarter, but it's a significant drop from a year ago, despite the ever-growing mobile market, which is edging ever closer to selling half a billion phones each quarter. Amazing numbers, really.
Turning attention to smartphones, i.e. (in our case) Symbian, this was the first full quarter of sales after Nokia announced its decision to give Symbian an End-of-Life date and its intention to transition to Windows Phone and, combined with the onslaught of ever-cheaper Android smartphones, the figures reflect an unsurprising dramatic dip, compared to stats from a year ago:
Worldwide Smartphone Sales to End Users by Operating System in 2Q11 (Thousands of Units)
Operating System

2Q11

Units

2Q11 Market Share (%)

2Q10

Units

2Q10 Market Share (%)

Android

46,775.9

43.4

10,652.7

17.2

Symbian

23,853.2

22.1

25,386.8

40.9

iOS

19,628.8

18.2

8,743.0

14.1

Research In Motion

12,652.3

11.7

11,628.8

18.7

Bada

2,055.8

1.9

577.0

0.9

Microsoft

1,723.8

1.6

3,058.8

4.9

Others

1,050.6

1.0

2,010.9

3.2

Total

107,740.4

100.0

62,058.1

100.0
Another quote:
Google and Apple are the obvious winners in the smartphone ecosystem. The combined share of iOS and Android in the smartphone operating system (OS) market doubled to nearly 62 percent in the second quarter of 2011, up from just over 31 percent in the corresponding period of 2010 (see Table 2). Gartner analysts observed that these two OSs have the usability that consumers enjoy, the apps that consumers feel they need, and increasingly a portfolio of services delivered by the platform owner as well.
For more information, see also the full Gartner report "Market Share: Mobile Communication Devices by Region and Country, 2Q11" which is available on Gartner's website athttp://www.gartner.com/resId=1764117.
Steve Litchfield, All About Symbian