Here's how Nokia describes the Oro:
The Nokia Oro is an exceptional combination of delicate craftsmanship and premium materials of leather and 18 carat gold plating, with a menu key of sapphire crystal. This premium smartphone also features an 8 megapixel camera and a 3.5 inch reinforced-glass AMOLED display, creating a device that is a tough, colorful and rich in character. The Nokia Oro sales package also features an 18 carat gold edition of the award-winning Nokia J Bluetooth headset.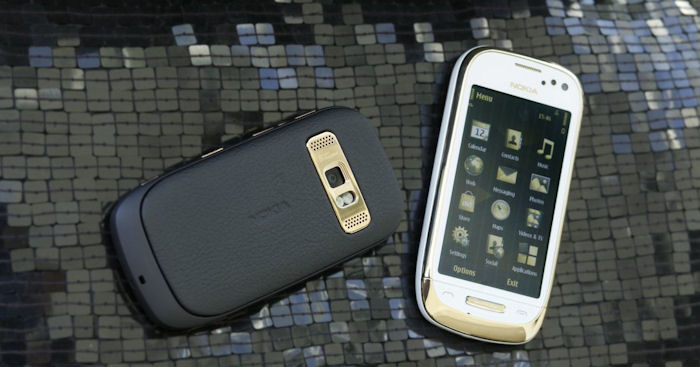 Nokia

Oro

materials
18 carat gold plating is used around the edges of the handset and to highlight the camera. To achieve a smooth

finish,

the gold coating is applied using a technique (physical vapour deposition) that forms around the phone's surface, molecule by molecule.

The back cover is encased, by hand, in high quality Scottish leather. The material is sourced from North European cattle breeds; over time, the leather will develop a soft patina.

The home key is a single sapphire crystal, which has a durability second only to diamond.

The screen is made of toughened glass, which is scratch resistant.

The Nokia Oro's Materials Designer, Robert Lihou, said:
"Our aim was to use the best materials for the purpose. It's coated with 18-carat gold which has been made scratch-resistant. The leather is from premium Scottish stock. That's a real sapphire crystal in the home key, which makes it eight times sturdier than glass."
More information is the materials data sheet.

Not your typical smartphone buyer
As noted by Nokia Conversations, Oro buyers are unlikely to fall into traditional smartphone buying groups:
The Nokia Oro is a device that's clearly intended for someone who doesn't want their mobile device to look the same as other people's. The main markets for this sort of device are the Middle East and Russia, where they have been best-sellers for some time. Nokia's General Manager for Russia, Gabriel Speratti, told us that, "premium products like Nokia Oro have always been best sellers in Russia. We have a large number of users who are looking for products with a build quality and superior materials that attest to their success and social standing. In some areas, possession of such premium products is the passport to being taken seriously."
We, almost certainly, will not be reviewing the Nokia Oro in due course (we have to be realistic here), but potential Oro users might like to check our C7 coverage. We would also like to thank the Nokia Oro user(s) who downloaded the All About Symbian app from Ovi Store last week.

Nokia

Oro

Image Gallery (click images to expand):
Nokia

Oro

in video