NFC is a set of short range (generally less than 4cm) wireless technologies that allow for communication between two objects. An important aspect of NFC is that it allows for unpowered targets (tags, stickers, key chains) that gain power from the RF field generated by an initiating device (similar to the technology behind RFID); in these instances, information transfer is one way (e.g. phone reading a web address from a tag). NFC also allows for two powered devices (e.g. two phones), which can communicate in a peer-to-peer fashion (e.g. two phones transferring a business card or a phone and a Bluetooth headset setting up a pairing agreement).
One of the most commonly cited use cases for NFC is to act as an enabler for mobile payments and ticketing (e.g. similar scenarios to the London Underground's Oyster system or Visa's payWave cards). However, due to legal issues and stakeholder disagreements (operators, mobile manufacturers, banks, credit cards providers all have a vested interest and everyone wants a cut) the wide scale implementation of commerce-related use cases may be some way in the future. As a result, the most likely early use cases will revolve around pairing Bluetooth headsets (touch to pair) and retrieving information or triggering an action from a tag (similar to QR codes) or a phone. It is these latter two use cases that Angry Birds will take advantage of.
Echoing the early years of Bluetooth, the uptake of NFC is currently limited by the network effect (not enough NFC enabled objects to make it valuable or useful). This is what makes a NFC version of Angry Birds a valuable promotional tool. It should help both educate users about the technology and provide them with a motivation to use it.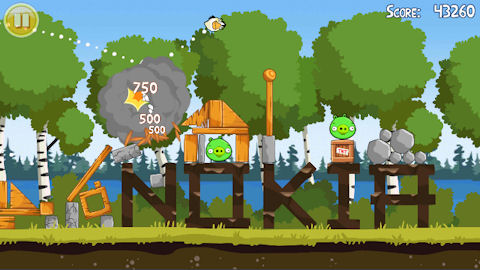 Angry Birds Magic comes with five levels already unlocked, a further three sets (each with five additional levels) can be unlocked. Each set will require a unique NFC interaction. The most obvious interaction will be with another NFC device. However Rovio will also be planting a number of NFC tags, which can be embedded inside any object (e.g. on a post, in a shop window) around the world, which will also allow the additional levels to be unlocked.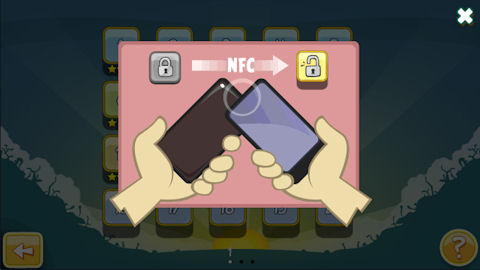 The 20 level version of the game will be pre-loaded on the Nokia C7 as part of the Symbian Anna update (new C7's are expected to start shipping with Symbian Anna in the coming months). It will also ship with all of Nokia's 2011 NFC-equipped smartphone handsets (currently the Nokia C7 is the only Nokia smartphone known to have an NFC chip - the recently announced E6 and X7 do not have them). Rovio are also working on a full version of Angry Birds Magic, which will be made available via the Ovi Store and will have additional NFC-related features.
Mikael Hed, Rovio's CEO, said:

"With Angry Birds Magic, friends can group together to combat the pig menace, in a new take on the game that so many people all over the world have fallen love with. This is an exclusive offering with the Nokia C7, a smartphone that really kicks off the NFC experience for developers. In time, the communal power of users with Angry Birds Magic could prove even stronger than the Mighty Eagle."
Bryan Biniak, Nokia's head of Ovi Publish, said:
"Angry Birds Magic is a great demonstration of NFC technology and we're delighted to have it exclusive to Nokia. It represents an exciting opportunity for developers to create new, innovative apps and games."

Here is the Rovio trailer for Angry Birds Magic:
Source: Nokia Conversations