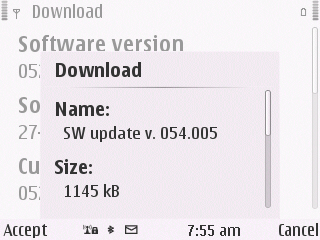 Here's the changelog, from what we can unearth. Do please comment if you notice something else!
SIM Lock 3.0 and B2B Certificate, phase 1 added
Startup settings baseline updated (wk47, 2010) (new dates etc.)
After a hard reset or on first use, Camera shortcut is replaced with Ovi Store shortcut in the Home screen
Removal of Ovi Files (service is now outdated)
Vlingo application removed
Anecdotally, some have found that Camera performance is better, especially the auto-focus.
(NB. The v54 rollout has been somewhat extended, but I held off reporting the story until our own Euro-sourced device had also received the update.)