When complete, collab.symbian.nokia.com will make available documentation and tools, in addition to the source code of Symbian. At the time of writing, the upload of documents, tools and source code is not complete, but will be soon.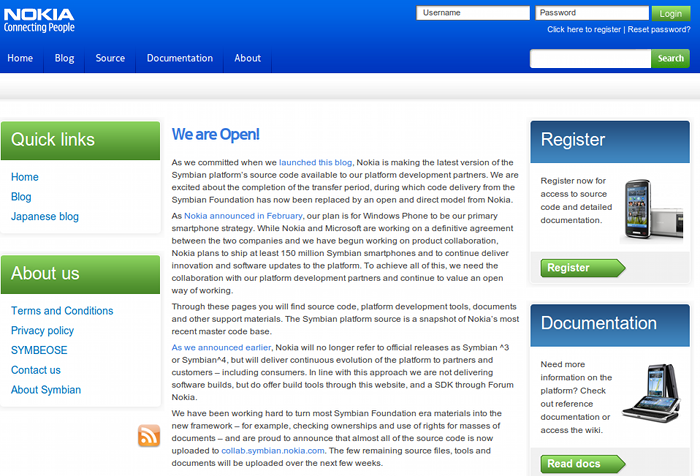 According to Nokia's head of open source, Petra Söderling:
"We have been working hard to turn most Symbian Foundation era materials into the new framework – for example, checking ownerships and use of rights for masses of documents – and are proud to announce that almost all of the source code is now uploaded to collab.symbian.nokia.com. The few remaining source files, tools and documents will be uploaded over the next few weeks."
The documentation page shows "coming soon" for all but the GIT repository guide. However, any interested and informed parties can always go and contribue to the Symbian Wiki.
Anyone interested in obtaining the source code needs to register with Nokia by going to http://symbian.nokia.com/registration/register.
Update:
I asked Petra Söderling about the situation surrounding contributing code back to Symbian's source code. She responded by stating:
"As we committed when the Symbian Foundation announced its plans to ramp down, Nokia is offering Symbian through an alternative, open and direct model for those who wish to use the platform.

We encourage potential collaborators to discuss with the package owners at Nokia if they have enhancements that are really useful and they believe could be incorporated into the platform. Currently they can get in touch with us through the 'Contact us' function on the website. You'll recognize that this is a different model from that of the foundation, which encouraged submissions from anyone but, in reality, generated few enhancements which were suitable for inclusion in the foundation's release.

We believe this approach is now the most appropriate, allowing us to enhance Symbian where needed working with the relatively small community of partners already working with us on delivering Symbian smartphones, without the need for a team of people evaluating unsolicited submissions from wherever they might come."
David Gilson for All About Symbian, 31st March 2011