The genre selector is the main UI control in this application. You can switch between genres by tapping the arrows either side of the genre name bar (see below). Tapping the name bar itself marks that genre as your favourite. It seems that you can only mark one genre as your favourite. Furthermore, I would have thought providing a drop down list of the genres would have given a more expedient user experience than having to cycle through them all; then marking one as favourite could have been achieved by a long press.
The application asks you for your location when you first run it, presumably so that it can present content licensed for your part of the world. After this, it's not immediately obvious what the criteria is for which tracks are shown in each genre. Mind you, previewing tracks works well enough, playing after a single tap of the album art. Tapping on the name of a track takes you to that track's page in the Ovi Music Store so that you can buy it if you wish. Similarly, using the search box takes you directly to the Ovi Music Store application and its search results.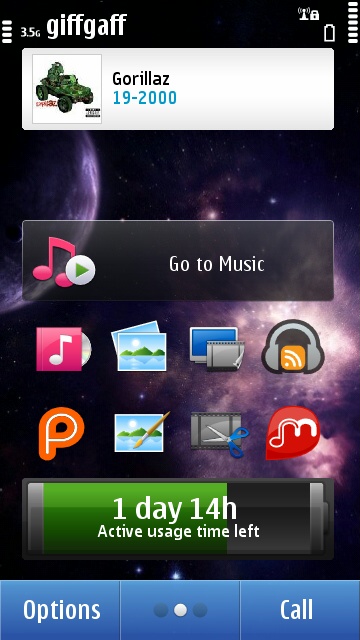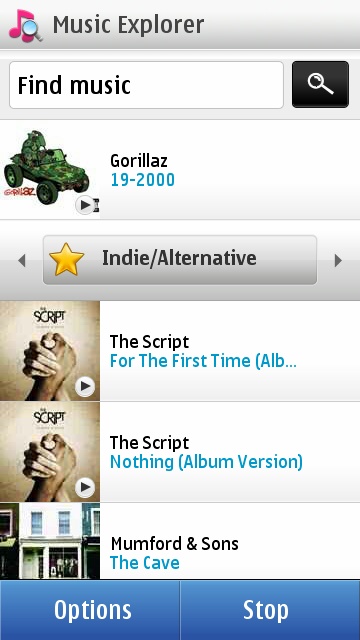 The home screen widget does somewhat feel like voluntarily adding an advertising banner to your phone's home screen. By marking a genre as your favourite, the home screen widget is supposed to present music that will appeal to you. However, having marked "Indie/Alternative" as my favourite, I am still seeing the likes of Rihanna and Shayne Ward floating across my home screen!
David Gilson for All About Symbian, 1st December 2010