The handsets fill various portfolios on the Prime, Stye, Smart and Pro series of DoCoMo phones. Features include a Prime handset that is waterproof with a 14.1 megapixel HD camera and AR Location Radar; a dual screen flip handset in the Smart series; and a number of stylish entries (yes in the Style range) for the more cost conscious buyer. There's a spread of release dates, with the majority of handsets out by the end of the year.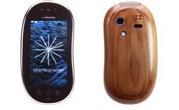 And then there's the Touch Wood phone due in Feb 2011. Let me quote from the spec sheet on this one:
[This is an] eco-friendly phone made with surplus wood culled from overgrown forests in Japan, featuring an ergonomic bean-shape body and pleasing natural-wood feel.
More at NTT Docomo.