First of all, here are the two sets of predictions, in terms of raw numbers: Gartner and IDC. Just in case you want to look them up!
Many people have also pointed out that predictions made a couple of years ago have been wildly out, with few people predicting Android would be such a runaway success. However, Android has been out for 18 months now and it's very much a known quantity. In addition, Apple seem content to sit at the top of the market, with premium devices at a premium price (it has been speculated that an iPhone 'lite' at half the price might do rather well...!)
As a result, I feel a bit more confident in these latest predictions from two of the mobile industry's leading analysis firms. As mentioned above, I've averaged and interpolated where necessary, to produce a composite overview of where the smartphone world is headed: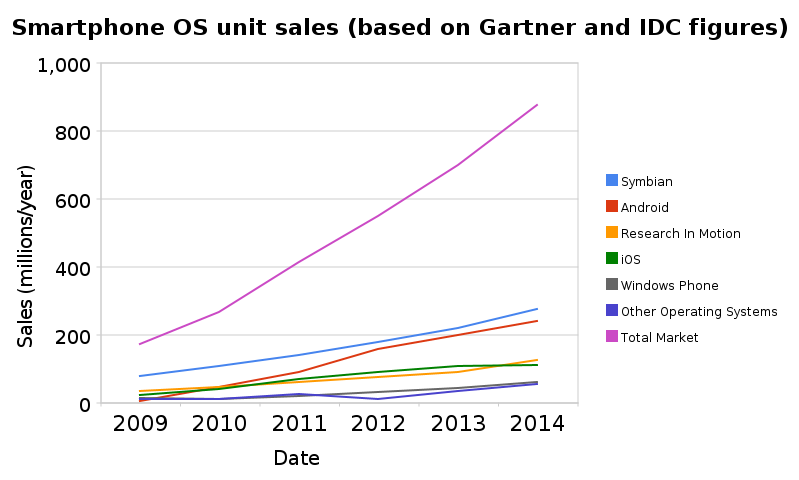 The biggest takeaway from the chart is that the overall size of the smartphone 'market' is rising sharply, more than quadrupling over the next four years. Unlike the overall phone market, whose size is restricted by the sheer number of people in the world, the smartphone market can rise and rise as more people with 'feature' phones upgrade to something with a smartphone OS.
As a result, the sales of devices powered by most of the major smartphone OS players are expected to rise as well. "Symbian is toast" was a somewhat arrogant statement made in a comment on my 'grass is greener' story yesterday. But a glance at the chart shows that sales of Symbian smartphones will rise and rise, up to an expected nearly 300 million a year by 2014. And, significantly, Symbian 'sales' are expected to stay ahead of even Android OS, a platform which has enjoyed a meteoric rise and which will continue prospering, but which will hit its own issues of fragmentation and saturation in due course. I still believe that a Symbian and Android phone of roughly equal specification won't come out at a similar price - the Symbian-powered one is likely to be 20 to 30% cheaper, and this difference should, ultimately, keep Symbian ahead.
It's very noticeable that Symbian and Android will break well clear of 'the pack'. Making all the more galling when I read some USA-focussed smartphone analysis that makes a statement along the lines of "The smartphone world is going to be dominated by Android, with iOS and Blackberry battling for second place". Guys, you seemed to have missed the market leader. Again.
Also of note is that everyone agrees that, marvellous though the iPhone is in its own way, its closed ecosystem, high prices and more limited distribution will all conspire to help its sales figures level out. And pundits seem split on whether Windows Phone 7 will gain any traction - the line and figures here represent something of an average of the different opinions. My own view is that it'll remain very much a niche mobile OS, arriving in such a crowded marketplace and trying to accelerate from a standing start.
Even more telling is doing the sums for market share for each year, i.e. showing more clearly how the different mobile OS will do relative to each other: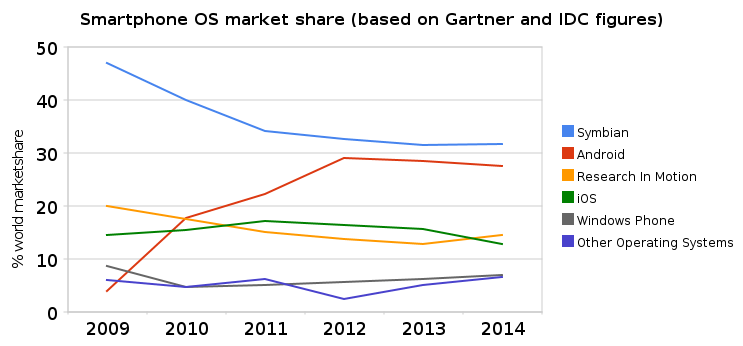 This chart clearly shows the relative slide of Symbian's market share (despite the aforementioned continuing rise in sales units), amidst the growing competition. However, current Gartner and IDC predictions clearly show Symbian finishing the next four years as (still) the market leader in smartphone operating systems.
Yes, Symbian's lead was once total dominance and it's tempting to blame some of the faux-pas of the last couple of years for the slow decline into 'simple' leadership - but the real story is that the competition, from iPhone, from Android and now from newcomers like Bada and Windows Phone 7, has been building some serious momentum.
Should you take all of this 'with a pinch of salt'? Possibly. Despite what I said above, trying to predict anything in the technology world four years ahead is an exercise almost doomed to failure. Still, I hope these charts have helped you put some of the current doom and gloom about the Symbian ecosystem into perspective. I (and Gartner and IDC) don't believe Symbian is going away anytime soon from the world stage.
Steve Litchfield, AAS, 22 Sept 2010