Here's the relevant portion of the email: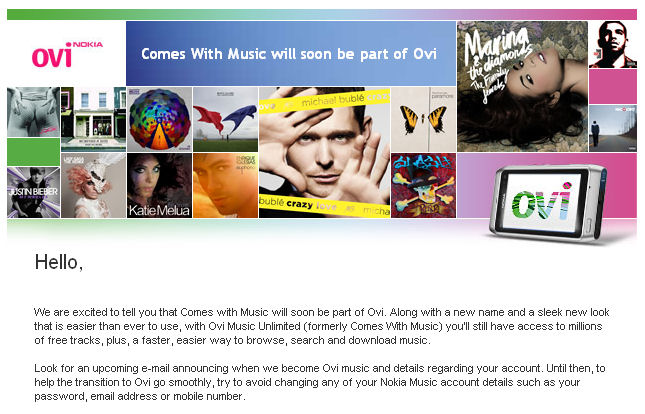 Nokia invested a significant amount of money in the Comes with Music brand, most obviously in a large UK advertising campaign, but it never really took off.
Many, including the All About Symbian team, felt that the problem was not in the offering itself (even considering the DRM restrictions), but rather in communicating the details to consumers. A lack of operator enthuiasm has not helped matters; for the most part Comes with Music device have been available in only limited quantities in high street stores. Nokia has never released detailed users numbers, but various sources have reported that Comes with Music has not been as sucessful as Nokia anticipated in European markets.
Furthermore the Comes with Music branding does not fit in with the overall Ovi branding. A change to Ovi Music Unlimited branding therefore seems like a prudent move; it is unlikely to cause any significant brand confusion and gives Nokia a chance to 'reboot' the service.
It seems likely that the overall music service will also be rebranded as Ovi Music. When this happens we would expect the a la carte music store (pay per track) to switch to DRM free MP3 files (from the existing WMA files). This is a vital step if Nokia's music service is to be a competitive offering in the UK and other European markets.

We'll report on additional details as they become available.