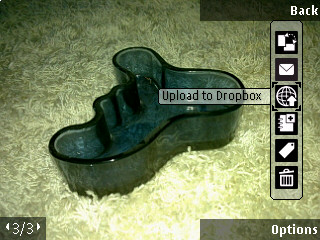 From Furtiv's blog post:
"Here at furtiv we are big fans of Dropbox. It's a very effortless way of keeping your personal files and documents in sync across multiple computers. It also works as online backup, which is always good given the way we abuse our laptops.

We are testing a new photo upload plug-in for Dropbox. So far, we are really digging it. It just takes one click and your photo is magically in all the computers where you have installed Dropbox. This plug-in is great for people who don't necessarily want to share their photos online but want a super easy way of transferring their photos to their computer. You don't have to worry about connecting cables, struggling with PC Suite software, flaky Bluetooth connections, etc. Just send your photo to Dropbox and that's it. It works with Macs, PCs and Linux computers. Dropbox also has a mobile website where you can always access your photos along with all your other files.

Please give it a try and let us know what you think. Just point your mobile browser to http://furtiv.mobi from your compatible Nokia Symbian phone to get this beta plug-in."