The application is intended to give you a digest of current All About Symbian content in an easy to use application on your mobile phone. You can switch between the application's different channels using the drop down menu. The on screen buttons at the bottom of the screen allow you to refresh the content, share a content item (via email or SMS), visit the Ovi Store and exit the application.
The All About Symbian News channels feature our last twenty stories in full. Each story includes a link to the main All About Symbian site, where you can follow links in the story and view any associated comments.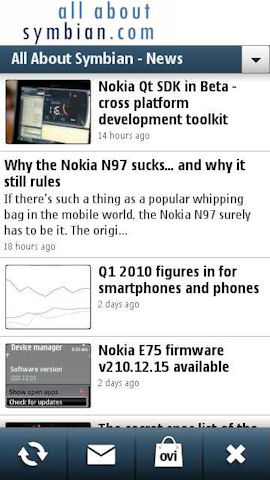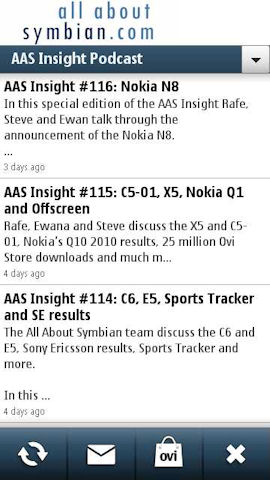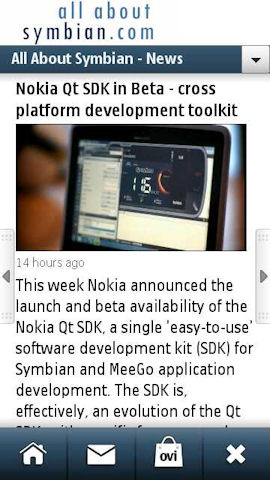 AAS News channel, AAS Insight Podcast channel and viewing a news story in the All About Symbian widget.
The application's AAS Insight Podcast channel gives easy access to the latest AAS Insight Podcast. The podcast's MP3 files will be downloaded using Web and you can start listening to the podcast almost immediately, in the Music player application, thanks to Symbian's support for streamed media downloads. Regular listeners may prefer to add the RSS feed to their podcasting client of choice.
Similarly, opening a YouTube link will start the Web application and open the YouTube mobile site; videos are played back in the page using Flash Lite video playback - tap to go full-screen etc.
The application includes support for the N97 and N97 mini's widget homescreen; selecting the All About Symbian widget will show a widget that rotates through the current headlines in the news channel.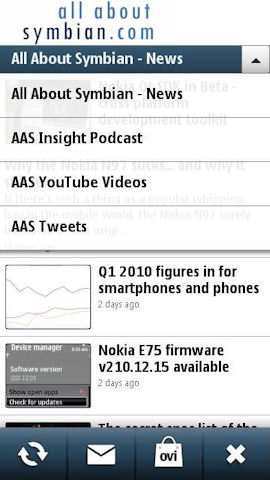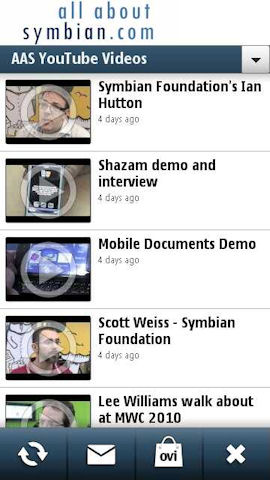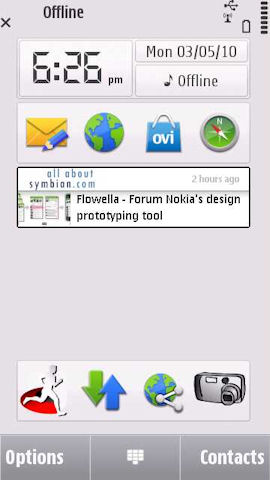 Switching channels, seeing the video content list and the homescreen widget (N97 and N97 mini only).
An alternative way to easily access the site's content on your mobile is to use the mobile version of the site (mobile.allaboutsymbian.com). This is the best option for those using S60 3rd Edition devices.
The application can be downloaded from the Ovi Store here. Please let us know what you think in the comments.