Recording a voice pack is a simple process, just follow the on screen instructions to record the 54 different voice clips which are required. It takes around seven minutes, depending on how long you take to record each sound sample.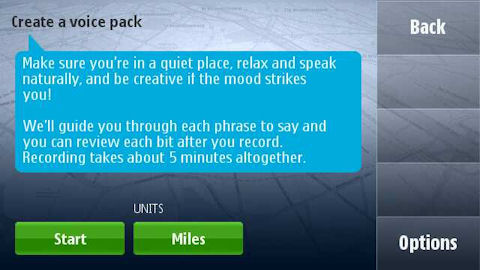 When recording voice a pack you record each segment separately and you record each segment as many times as necessary in order to get the perfect voice pack.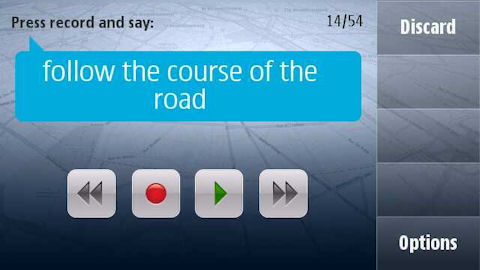 Once you have completed a voice pack you are given the option to upload to it to Nokia's servers so that it can be shared with the world.
If you don't want to record your own voice pack you can browse the voice packs uploaded by other users. There's a recommended list, which should contain some of the higher quality voice packs, as well as a list of popular voice packs and a listing for all voice packs. At the time of writing there were more than 50 available voice packs, which will no doubt grow significantly in the next few days.
You can also browser and preview available voice packs on your PC using the dedicated Own Voice website.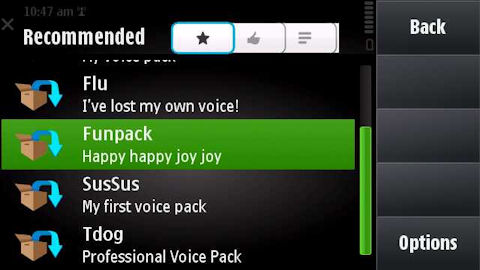 For each voice pack there's an option to play short preview and rate the voice pack (presumably used to generate the popular and recommended lists). It's good to see Nokia have also included sharing options (Messaging, Twitter and Facebook) so that you can let you're friends known what voice pack you're using (it's also a clever way to promote the service).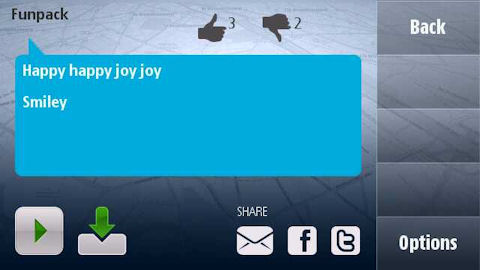 Once you have recorded a voice or downloaded a shared voice pack you need to select it in the Ovi Maps applications (Settings -> Navigation -> Drive -> Own Voice). If you don't see 'Own Voice' as an option you will need to upgrade to the latest version of Ovi Maps.
Own Voice for Ovi Maps is available for Nokia devices that support Ovi Maps 3.03 (Nokia N97, Nokia N97 mini, Nokia 5800 XpressMusic, Nokia 5230, Nokia E72, Nokia X6, Nokia N86 8MP, Nokia E55, Nokia E52, Nokia 6730, Nokia 6720, and Nokia 6710). The next time you use car navigation in Ovi Maps you'll have a new voice guiding the way.
More information is available on the Ovi.com site.