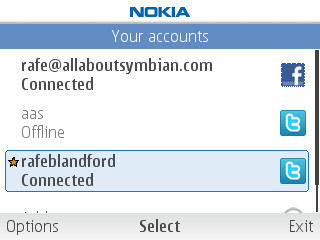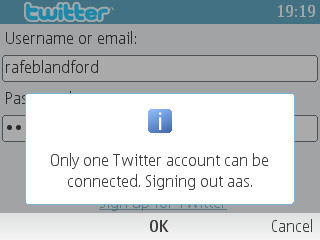 The application acts as a 'wrapper' for social networking clients. Currently Facebook and Twitter are supported, but Nokia have indicated in the past that they are likely to support additional services in the future. You can add multiple accounts from one service to the application, but only one can be active at any one time.
The Facebook client gives access to most of the basic functions of the social network such as reading and sending status updates, viewing profiles, and viewing and uploading photos. It is similar to the stand alone client, which is available for a number of Eseries phones.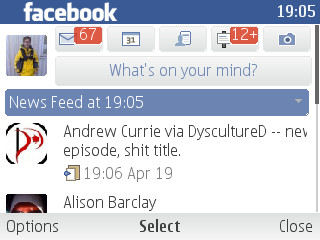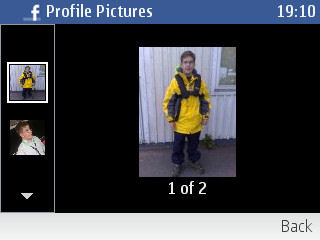 The Twitter client is a relatively basic affair, but still supports the key Twitter activities - reading from your Twitter stream and sending updates, replies and direct messages. There are some extras, such as the ability to automatically shorten links in status updates and viewing profile information.
Only five tweets are shown on screen at any one time with older tweets accessible via a 'get more' link, which means the client is not very suitable for heavy Twitter users. Furthermore there are currently no automatic updates of the Twitter stream or Twitter extras like image uploads or retweets. Power users will definitely want to investigate one of the many third party Twitter clients.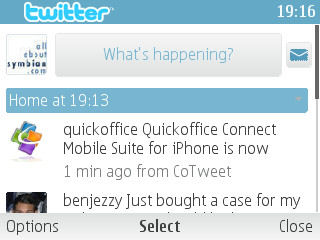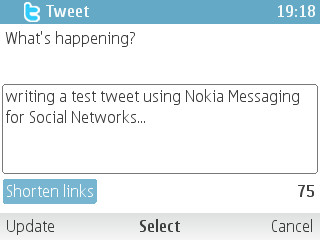 The overall performance of the application and clients is sluggish, with status updates taking some time to load and images taking even longer. However this is a beta application and as such it is not fair to make any conclusive judgements. It's also worth remembering that the software is aiming to deliver an easy to use and intuitive experience for the average user. Do not expect power user features, rather consider whether the application provides approachable access to social networks from a mobile device for the novice user.
On a technical note the application appears to use WRT and Nokia's APIBridge (which gives WRT access to additional phone functions). We've not seen APIBridge used in many publicly released applications, but it does add significant extra capabilities to Java, WRT and Flash Lite. It also seems likely that much of the WRT code from Nokia's Facebook client has been reused here and it has similar functionality (and performance).
Nokia Messaging for Social Networks can be downloaded via the Nokia Beta Labs website. You will need to log-in, using a Nokia / Ovi account, before you can see the download link. Additional information is available on the Nokia Messaging and Beta Labs websites.
As ever both Nokia Messaging and Nokia Beta Labs are keen to hear feedback to help shape the future direction of the product.