In the report AdMob make it quite clear that the trends are only about their own data and can not be taken as representative of the Mobile web as a whole. However the data is widely used in the media to make comparisons between various platforms, some of which can be misleading. For example in the new and noteworthy section AdMob note that Symbian share fell from 43% to 18%; out of context that number can be misleading. It can not be read as market share or even as share of mobile web page views. Rather it is indicative of AdMob's strength in the US and in engaging Android and iPhone content publishers.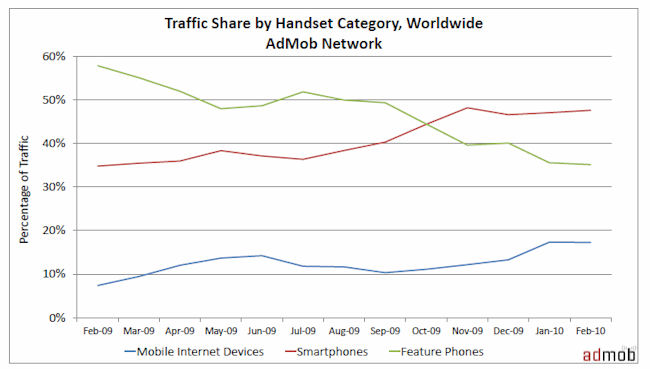 The majority (50%, up 7% yoy) of AdMob's requests come from the USA, which results in a geographic bias in the global numbers (and is also Symbian weakest market). AdMob provides an SDK to Android and iPhone developers allowing them to include AdMob powered adverts in their applications, which has been an important growth area for AdMob in the last 12 months and will clearly give a bias towards these two platforms. As noted by AdMob's themselves the increased proportion of smartphones (from 35% to 42%) is 'fuelled by heavy application use of iPhone and Android' devices.
Getting reliable statistics about the mobile web is difficult. Methodologies tend to vary greatly and there is difficulty in obtaining a representative data sample that can accurately identify all the different devices and platfroms concerned. StatCounter (shown below) offer a viewpoint based on the aggregation of their metrics service.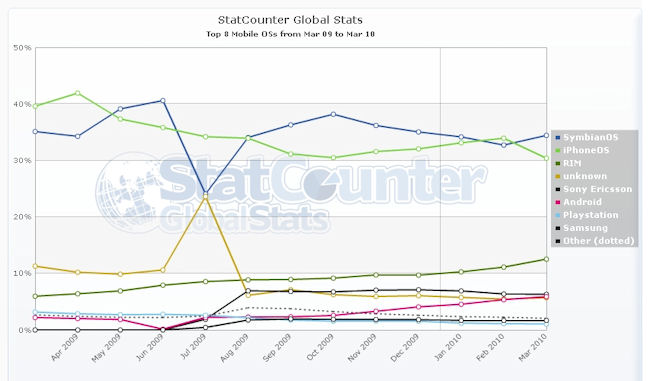 What AdMob's stats do clearly show is an increasing number of ad requests to AdMob, from 6.5 billion in February 2009 to 14.1 billion in February 2010. While some of that growth is attributable to AdMob's growth as a company over the last year, it is also indicative of a healthy and rapidly growing market for mobile advertising both on web sites and inside applications.
They may also suggest that the Symbian application ecosystem, in terms of advertising supported content, is behind Android and iPhone. Symbian, Nokia and Sony Ericsson all need to work to address this. However, given the continued market dominance of Symbian, it also suggests that there is an opportunity for an advertising network company to provide an easy to use in-app enablement system for Symbian developers.

Disclosure: All About Symbian uses AdMob on its mobile site.