The news come just over 2 years on from the initial announcement that Silverlight was to be ported to Symbian and is emblamatic of a closer relationship between Microsoft and Nokia.
It is very much an early stage Beta. Silverlight for Symbian is broadly equivalent to Silverlight 2 for the PC. However there are some missing features in the current Beta and some platform specific limitations (e.g. input methods, media codecs and controls). Further details are available on the Silverlight for Symbian beta page.

Silverlight is Microsoft's entry into the cross platform web/PC/mobile multimedia run time space. Similar technologies in this space including Adobe Air / Flash and JavaFX. Nokia's Qt might also be considered a player in this space, although it would generally be seen as sitting lower in the software stack.
Silverlight is being used as one of the application developer platforms for Windows Phone 7 Series. This raises the possibility of easier ports between Windows Phone 7 Series and Symbian. However it is worth noting that the Windows Phone 7 Series version of Silverlight is, as you might expect, significantly more advanced in terms of completeness and capabilities.

Silverlight on Symbian further extends the range of run-time available for the Symbian platform. Its most common usage is likely to be in creating Symbian ports of existing Silverlight applications and running Silverlight content in the web browser.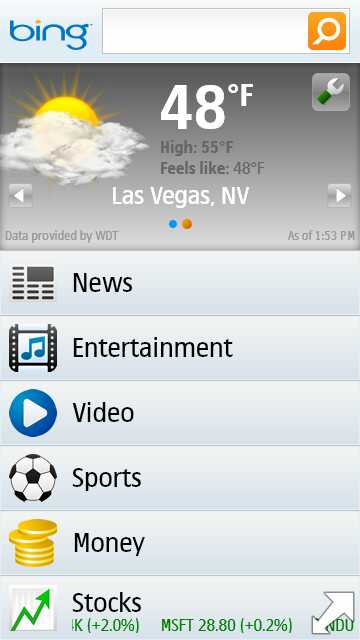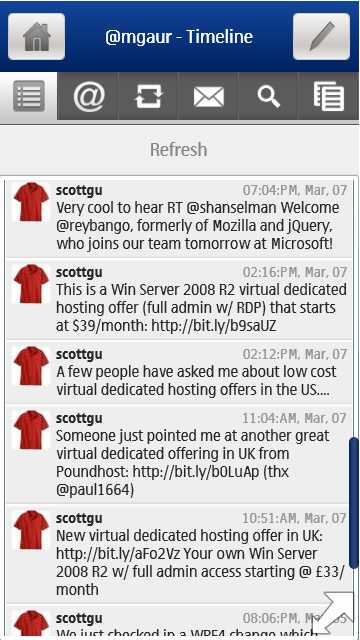 Sample applications from Bing and Seesmic running on Silverlight for Symbian