Shown below is an example EyeMag, Seven Wonders of the World, one of 9,000 currently available, which combines images and text to give a quick visual guide to 'wonders of the world' in various categories, from the traditional to the modern. Essentially, EyeMags takes content and puts a Web Runtime 'wrapper' around it. From within any EyeMag you can share the content (via e-mail, Twitter and more) or download further EyeMags.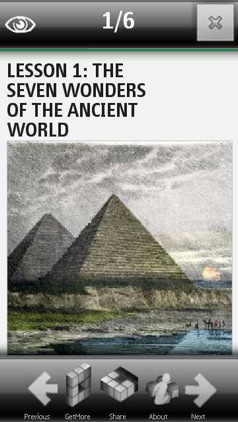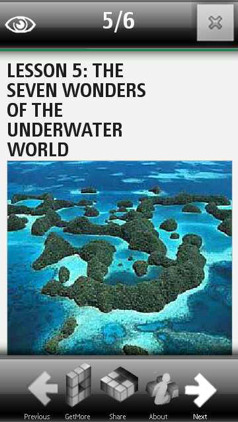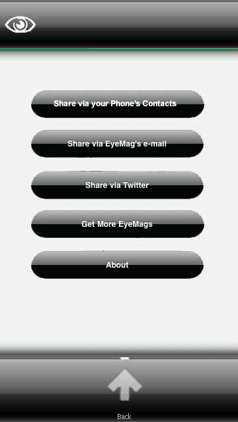 EyeMags aims to create 'snackable' or 'casual-consumable' content and, by making the creation process as simple as possible, aims to lower the barriers for creating such mobile content. They are not intended to be full blown, feature rich, applications. As such, they may appear relatively basic, but that misses the point.
'Snackable' content is making up an increasing proportion of app store content. This is partly the result of the improvement in distribution channels that app store provide, but is also a reflection of the 'race to zero' pricing trend, which has forced some developers to create simpler applications. While there is plenty of room for improvement in the EyeMags service, and automation means there is little flexibility, the service is providing a potentially mass market solution on the leading edge of mobile content trends.
A key feature of the EyeMags service is its support for multiple platforms, including Nokia phones (enabled by WRT) and the Apple iPhone (enabled by HTML 5 - a good example of how HTML 5 can be used to create offline applications) - and feature phones (enabled by JME technology). Clearly there are significant cost-and-time advantages to a service that allows you to create mobile content for a number of mobile platforms at the same time, especially when the service already emphasises ease of use.
From the press release:
"EyeMags (eyemags.com), a personal content application generator for all mobile phones, announces today that they can provide full support for S60 Touch phones including the Nokia N97, Nokia N97 Mini, Nokia 5800, Nokia 5230, Nokia 5530 and Sony Ericsson Satio phones. Content applications are built by the server using WRT widget technology.
Following our successful launch of the iPhone App Creation tool last week, further work with the top end Smartphone market sees us launch support for these latest Nokia and Sony Ericsson Smartphones. Both these technologies build on top of the mobile Java (J2ME) applications used for all other devices.

Now non-developers can build their own content applications for most phones from low end to the top end Smartphones and make them available to the public immediately using the EyeMags technology. EyeMags believe this is a world first and expect significant uptake of their service. The advantage for publishers is that these applications are automatically available for all other phone types at the same time."
EyeMags can be side-loaded via a PC or can be downloaded directly from the mobile site, as shown below.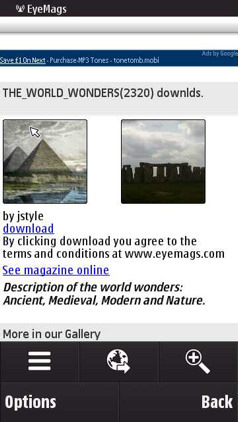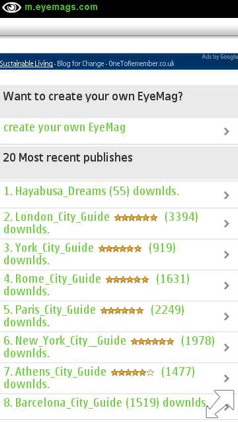 EyeMags Creation
Anybody can create EyeMags through the EyeMags website. Each EyeMag is made up of ten pages, each of which can contain a mixture of text and images. You upload your images, via the web browser, and enter text into a form on the web page and the website does the rest for you.
The EyeMags site will automatically create a download page and a version of each of the phones that the EyeMags service supports.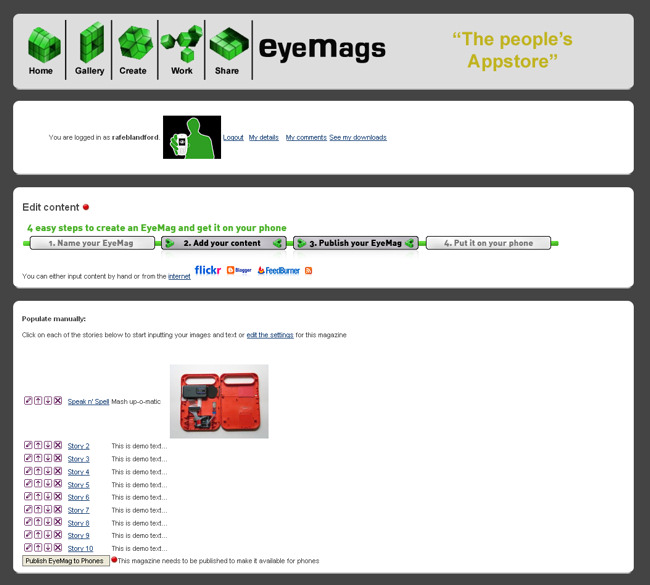 More information is available at www.eyemags.com.