You'd think that with the plethora of designs, of ever increasing specification, from different manufacturers, that I'd be spoiled for choice, but the problem is that my expectations of a smartphone have also gone up - and at a faster rate than the devices themselves.
The task again: Picking the top 5 phones in the world at the moment. The ranking should take into account functionaility, build quality, usability, reliability and elegance. In short, they should be the phones I'd recommend to a tech-savvy friend asking the perennial question "So which phone should I go for, then?"
My own interactive Smartphone-choosing Grid is a good start, of course. In fact, you can try it yourself, though note that it's always a little out of date since I maintain it only in odd moments. But picking a personal 'Top 5' involves a little more emotion than the numbers and grades allow.
Let's look at some likely contenders, surely one of these will be in the top 5?

Nokia N97. Even leaving aside my early unit and the GPS and camera glass scratch issues, the N97 is going to struggle slightly. Creaky sides, a plastic back and a minimalist keyboard that I still struggle with to this day rather ruin the premium ambitions of the device. RAM and flash memory issues are a big concern, despite the big v20 firmware update that's imminent. Yes, when patched up it's going to be a functionality powerhouse and there's that lovely huge screen, but I'm not convinced I want new users to be going through what I've gone through. It's top 10 material, but I'm not sure it should be at the top.
Apple iPhone 3GS. Faster and more graphically impressive and with a far better camera than early iPhones, the 3GS has to be somewhere near the top of the tree. And yet I find it hard to recommend to casual enquirers. No proper multitasking, so you're forever re-opening apps and explaining to people why they can't have that music or that chat system running in the background while they get on with something else. And do you really need 80,000 apps? Just finding the dozen or so that are really good and right for you is enough. I'd rather see an iPhone app store with 800 apps, all of which are of a really high standard. And then there's the price. Even more so than the N97 above, you've got to sign your life away to own one. Or at least that's what it feels like. Again, a top 10 contender though.
HTC Touch Pro 2. Featuring a glorious screen and one of the best mobile qwerty keyboards I've ever used, this pitches itself as a mini-laptop and to some extent achieves this. But it's hard to recommend the mishmash of UIs - part iPhone-wannabe, finger-optimised HTC TouchFlo 3D and part traditional stylus-centric Windows Mobile. Add in the confusion from two web browsers, two image viewers, two (or is it three) video players and you get the picture. I'm simply not sure who the Touch Pro 2 is aimed at and as a result it will only just scrape into a top 10.
Palm Pre. Still not actually available in most countries, the Pre is struggling to make any kind of real impact. With an ultra-fiddly keyboard, its main selling point is its innovative integration of multiple contact sources. Read the press and you'd think that the Pre was doing almost as well as the iPhone. Look at the numbers and it's nowhere. And I haven't even held one yet.

Nokia N86 8MP. Consummately built, with a gorgeous screen, great keypad and media controls, decent battery, possibly the best phone camera in the world, the N86 is elegance personified. The trouble is that its form factor is unashamedly 2007, with the QVGA-screened dual slide system. Not necessarily a problem, since this works as well as it ever did, but would my credibility be strained beyond stretching point if I make this my top pick, in these days of WVGA capacitive touch screens? Do I even need to worry about what others think? There are a few other downsides, too - very tinny speakers and firmware which is still relatively immature. Certainly worthy of a top 10 place though.
HTC Hero. Ah yes, the 'device of the moment'. The one everyone's been raving about. It's tiny, it's got a capacitive touchscreen, it's got Android, it's got a social/widget/buzzword-centric front end, what's not to like? The problem is that it's too fiddly, overall. Don't get me wrong, it's perfect for the geek who loves to fiddle, but in real world use the Sense UI gets in the way as much as it adds functionality. The HTC virtual keyboard is good but not as good as the iPhone's - and the screen is smaller. And, by opting for the HTC re-working of Google Android, you have to do without 'The Google Experience', so say goodbye to, for example, over the air firmware updates: with the Hero you have to wipe your device via a Windows PC and then sync or install everything back on afterwards - it's not ideal. Again, maybe top 10 material, but only just.
Nokia E75. The 'in' phone in the AAS camp for 2009, the E75 excels at almost nothing yet manages to do everything else rather competently. Its only weak spots are the smallish (2.4") screen, with attendant readability problems in the likes of Web, and the smallish battery, which is prone to dying in the face of heavy push email use. Still, there's no doubting the genuine (and metal!) Swiss Army Knife feel to the phone and it's probably what you'll see me blogging with at any event this year, the keyboard is genuinely useable. Yet again (spot a theme yet?), it's top 10 material but not really worthy of being near the very top slot.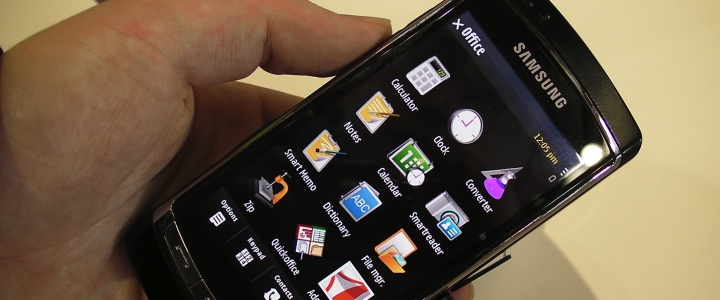 Samsung i8910 HD. The 'flagship' with next to no official support. Samsung have turned out (again) to be hopeless at providing official support and updates for users in most countries, though there's a healthy underground "hang Samsung, we're going to start modding this phone ourselves" movement. However, 10 out of 10 for the hardware - huge OLED screen, great chips, great speakers, great camera - but yet again it's a Top 10 contender but not top of the heap.
Nokia E71. The iconic thumb keyboard design, the E71 still feels like a quality product and still flies through almost everything. But it's held back by the smallish screen (again 2.4"), the poor multimedia performance and the lacklustre camera. So there or there abouts, but not pick of the pops.
Nokia N96. Another Nokia flagship that wasn't great for the first six months of its life - the N96 was plagued with bugs and performance problems and, to be honest, is still a bit slow today. However, it is still function packed and most things now work perfectly. And it's still one of the very best phones to watch videos on, with superlative compatibility and dedicated video decoding hardware. Still a top 10 contender but I'd get laughed off this site if I made it my top pick.... 8-)
Nokia N95 8GB. Ah yes, my top pick for absolutely ages and still alive and kicking hard. Largish screen, great speakers, great camera, bigger battery, graphics acceleration - it's still hard to argue against anyone still picking this out of a lineup for a top 10, even in 2009. But S60 has moved on a bit - 3rd Edition Feature Pack 2 brought significant under the hood improvements, Web is now better on the latest devices, and so on. And as a result, you have to consider the N95 8GB somewhat long in the tooth. On the other hand, it's now fairly cheap! But still, I can't pick it, in all honesty, as the top device in the tail end of 2009.

Nokia E55. Now this one interested me - two-letters-per-key predictive text - a qwerty keyboard with no impact on form factor. But I was a little disappointed by the practicality of the solution in real life. I'd have persevered longer with it if I'd been more impressed by the E55's build quality or noise cancellation features. And the omission of Podcasting and Internet Radio was unforgivable.
And.... that's about it. Not a single phone which screams 'best of the best'. Or even shouts it. I'd find it incredibly easy to pick my number 6 through 10 in a list, and incredibly hard to work out what the heck deserves to be in from 5 through 1....
[added] Oh, and in answer to comments from others in the thread below about certain other handsets that I didn't mention:
Blackberry Bold. A definite candidate for getting into a top 10, but the overwhelming majority of Blackberrys are bought by companies for their employees and so the choice of, for example, a Bold, is not actually being made on a level playing field by general consumers. And for that reason, I didn't include this in the original list.
Nokia E90. The big, bruising, S60 superphone that never really took off. The idea was good, and I loved mine in the early days, but the heavily customised version of the S60 UI was never properly optimised and Nokia seemed to go off the whole idea. Its keyboard and screen real estate is still unparalleled, but I can't bring myself to pitch it into a top 10 battle in 2009. Sorry.
Nokia 5800. I picked this out in one of my 'top 5's six months or so ago, particularly liking it because of price - it offered 90% of the functions of the top-end phones at half the price. However, the price differentials are now arguably less and the 5800 itself has been joined by a number of sister devices with better build quality. Should I have included the excellent little 5530 instead, at around a third the price of an N97? Yes, if the main focus of my problematic top 10 was value, but that remains just one of many criteria. The 5800 and 5530 (etc) would still definitely be in a top 20, but they look increasingly plasticky in a field of devices with higher build quality and better choice of materials.
________
All is not lost, though. The secret is patience - for around the corner - literally - we have the following: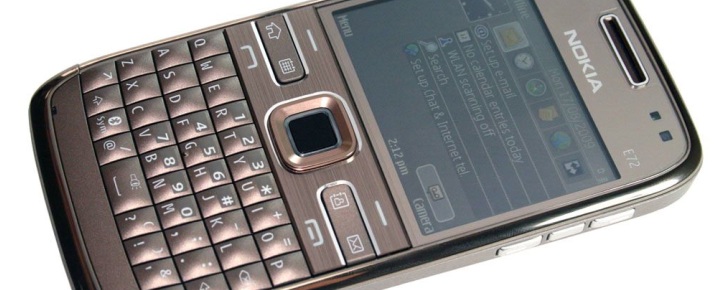 Nokia E72. Everything good about the E71, but with a better camera, better media and an optical trackpad to boot. Delayed, but I'm looking forward to this one!
Nokia N900. The next generation of Nokia super-phones? It's tablet-focussed more than phone-focussed, but that shouldn't put people off considering it as one of the most powerful handheld computing devices on the planet. Jury's still out on battery life though...
Nokia N97 mini. Reckon the N97 is too plasticky and too large? This is the one for you then, with metal back and slimmer design. AND it'll ship with the next-gen S60 5th Edition software from day one....

Nokia X6. It's the 5800, but with an extra year's development behind it, including capacitive screen and far slicker software.
HTC HD2. You've got to at least stop and look at a phone with a 4"+ screen and this much performance. Whether it's practical as a phone that lasts through a working day is another matter of course, but it's worth a look!
Motorola DEXT and other qwerty Android phones. Ah yes. The first phone that marries up a decent qwerty keyboard to vanilla Android 1.6 will get my approval. Is the DEXT it? Watch this space. Well, actually, watch The Phones Show, since this is All About Symbian, but you get my drift....
There's also the Sony Ericsson Satio, of course, but that's shot itself in the foot before it's even started by including a battery that just gets you through the first half of day one.
So it appears that the next couple of months could provide several of the much needed contenders for my coveted Top 5 slot. It's hard to be patient, but I'll be doing my best!
Steve Litchfield, All About Symbian, 11th October 2009