We've heard time and time again that Nokia is reinventing itself (and not for the first time), from a company whose primary goal is to manufacture mobile phones to a company based around online services and software (that happen to run on the hardware that they make) - irrespective of the time this changeover takes in the real world, Nokia are committed to this approach. Now they could attempt to code everything themselves from the ground up with their software engineers, but there always comes a point when the knowledge inside a third-party company, and the product they have, is far cheaper than the cost of the in-house development team.
So why spend 40 million Euros when you can buy the same functionality for 20 million? And as well as buying that functionality, you also get the team that programmed it on your books as staff as well as all their understanding of the nature of their app and the field it sits in. The Dopplr team have lived for years in the community buiilding and travel field and that's not something an engineer in a lab can replicate.
They've also said on their blog that the acquisition will not change the current Dopplr service and it will continue to be available on multiple platforms and destinations (including their iPhone application), but I'd expect a surge of new registrations now the Nokia news has brought more attention to the company. Over time, the features of recommending places and cities, and knowing which of your friends will be where, is likely to be rolled into the social side of Nokia Maps, but I expect this to be gradual and organic - don't expect a sudden switching on of Nokia Dopplr, in other words.
If you've a gap in the portfolio that you want to fill, then there are a lot of arguments that make buying an entire company worthwhile. Of course there are dangers as well for both sides. Integrating the service and team may not be straightforward, with differences in management style, corporate ethos and remuneration packages, so just because there is a cash saving, it's not always as simple as that.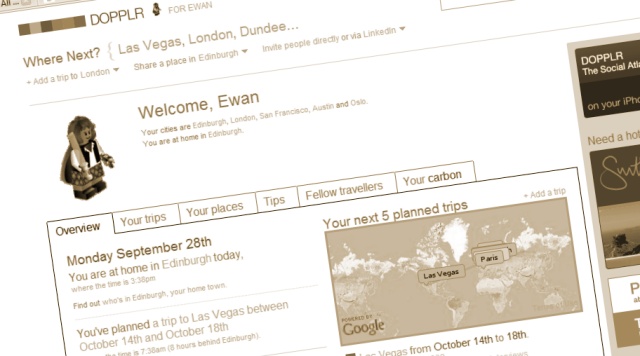 Dopplr in action - I'm "Ewan" if you want to stalk me across the Atlantic
But when you are growing and accelerating, as Ovi is, sometimes the time savings make the buy far more attractive. Ovi Share is a good example here, it's one of the core places to share media from your mobile phone with your friends and the rest of the internet. Originally it was called Twango, based in Redmond and started by ex-Microsoft employees. Back in 2007, Nokia bought the whole kit and kaboodle, did some rebranding work, and one of the first Ovi steps had been taken. It's been a bit hit and miss though, and Nokia have said there will be no more investment, and are switching their strategy to leveraging other online sites for media sharing and storage, e.g. Facebook and Flickr.
The fit for the smaller niche services isn't as clear as Twango, but you can make some good guesses. In the case of Dopplr, you can expect that user accounts will be merged with Ovi accounts to provide single sign-on, and that Nokia Maps will benefit from the expertise and ideals of Dopplr in much the same way as when Nokia acquired Plazes last year. And of course Nokia Maps itself is a result of the Gate5 purchase for a rumoured $250 million.
Maps and sharing your location are already high on the Nokia agenda. Nokia World saw the Facebook widget for the N97, which allowed you to snap pictures and pass on your current location to friends, gathering Nokia a lot of great press for a usable real-world application of all this technology.
Are Nokia buying their way into the software market? I'm sure some will think that this is a substitute for doing the work themselves, but the arguments are never as simple as that... Start-up are always risky, both for the founders and the investors. When buying a company, Nokia becomes the sole investor and controller and just because the early stage efforts worked, that doesn't mean that the success will continue. Even if the service had been built in-house before integrating into the main services, the same challenges of moving the user base, making sure it all works in an existing product, and not losing the spirit of the founding team would be exactly the same. So they found a better way of doing the first step - that's what being a good business is meant to do.
In that sense these small companies are good value to Espoo. Dopplr has cost Nokia an unconfirmed 10-15 million Euros, but for that I believe Nokia has made a good investment. Will it pay off? That's not guaranteed, but by choosing a company already blooded in battle, with a user base and an experienced ops team, Nokia could allow this and other companies to blossom under their wing. We'll watch closely what happens.
-- Ewan Spence, Sept 2009.