The Nokia 6760 will ship a number of Nokia services, including Nokia Messaging (easy to set and use email, provides push email to consumer accounts), Ovi Maps 3 and Nokia Music services.
The press release also mentions support for 'easy access' to social networking sites (through shortcut widgets). There's also support for a number of instant messaging services (Google Talk, Windows Live Messenger), which will likely be supported by an addition to, or upgrade of the Nokia Messaging software solution termed Ovi Chat (possibly combined with Ovi Contacts).
Nokia has previously stated its intention to roll both instant messaging functionality (phase 2) and aggregation of social networking status messages (phase 3) into the Nokia Messaging software suite.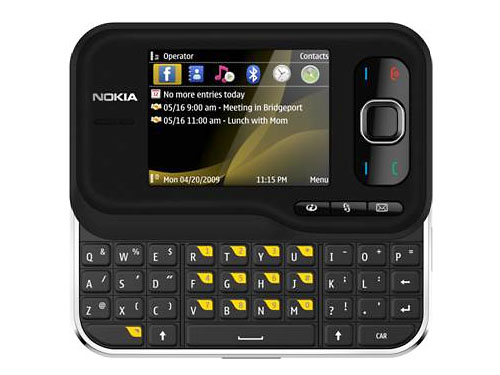 Image credit: Nokia; Nokia 6760 Render
The 6760 continues the Nokia's recent trend of using Symbian on S60-powered devices to provide feature-rich devices for mid tier segments. Following on from the Nokia 5730, the Nokia 6760 is Nokia's second (and cheapest) consumer-focussed QWERTY device of recent times. QWERTY devices are becoming more popular among mid-tier consumers, who are increasingly looking to expand their mobile communication options beyond voice and text.
Key features of the Nokia 6760
Horizontal slide form factor with QWERTY keyboard.

Integrated GPS with A-GPS support.


3.2 megapixel camera and QVGA video capture


Dual band WCDMA/HSDPA 1900/2100, Quad band GSM 850/900/1800/1900


USB 2.0 (microUSB) for PC connectivity, Bluetooth 2.0 (including A2DP and HID profiles), 2.5mm UHJ audio jack.


97.6 x 58 x 15.6 mm dimensions, 78.55 cc volume, and 124.3g weight.


2.4 inch QVGA (320 x 240) screen (with auto rotation via accelerometer).


1500 mAh battery (BP-4L), charging is via a standard Nokia charger (2mm) - AC-8U is included in the box.


128 MB internal memory, microSD card slot with 2GB card in the box (up to 8GB officially, in practise likely 32 GB)

Available in black, red or white colour variants.


Runs S60 3rd Edition Feature Pack 2 (3.2) on Symbian 9.3


Ships with a variety of Nokia services including Nokia Messaging, Ovi Maps 3, Nokia Music and instant messaging software.


Further information
From the Nokia press materials:
Nokia today announced the Nokia 6760 slide, a messaging optimized device with a sliding QWERTY keypad. Ideal for individuals who want to stay connected when they are out and about, the Nokia 6760 slide offers fast and easy access to favourite social networking sites like Facebook, MySpace or Twitter as well as email accounts from Ovi Mail, Gmail, Yahoo! Mail, Windows Live Hotmail and thousands of other email providers.
Setting up an existing email on the Nokia 6760 slide is simple. Only the email address and password are required. Push email is available through Nokia Messaging. Instant Messaging no longer needs to be confined to a computer as the Nokia 6760 slide also offers access to instant messaging solutions from Google Talk and Windows Live Messenger.
In addition to great messaging options, features like the inbuilt A-GPS module together with the 3D landmarks and the terrain maps give a greater dimension to the Nokia 6760 slide.
At the end of the day, the Nokia 6760 slide is a great multi-tasker – you can tweet, email, IM, share online, browse the web, listen to music, all at the same time. And it makes phone calls too!
The full device specifications are available on the Nokia website.