TibiaME Autumn 2007 Update
TibiaME is the world's first-ever Massively Multiplayer Online RPG for mobile phones. Created three years ago by CipSoft for Symbian S60 smartphones, it's now also available for J2ME Java phones, and has a strong cult following all round the world. Over the Summer, All About Symbian did an in-depth review and feature about the S60 3rd Edition version.
Since then, the TibiaME software has received its Autumn 2007 update, the first noticeable overhaul since the game engine began. As you may have gathered if you've read AAS's review, it's about time too.

As well as enhancing the graphics, the developers have introduced a new Halloween-themed island to the TibiaME game world. Called Ashmor, it's full of slime monsters, green swamps, bats, ghosts, skeletons and pumpkins.
The island includes new monsters and new objects, and it also includes the first showing of the new game engine which gives the designers more flexibility. The new engine allows such things as combining one type of scenery on top of another, and also lets the user's phone download artwork as and when it's needed. Previously, the game could only use graphics built into the software itself, which meant the game looked and felt much more repetitive.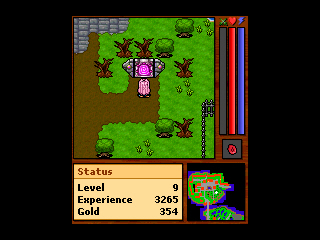 On the left is the town teleport, on the right is a wolf-infested pumpkin farm
Welcome to Ashmor
Premium players can get to the new island from one of the harbours of the other islands. The first thing that strikes you about Ashmor is that it's decrepit and dingy, with tiles missing from every roof and contaminants in every body of water. You learn that the island is being recolonised by human settlers, but they're disturbed by the state they found the island in. There's a huge but delapidated wall surrounding the harbour town, and the first out-of-town settlement you run into is inhabited by a ghost who needs your help to put his life back together. As you progress through the quest you'll meet a sleepy wizard, a pumpkin farmer and much more.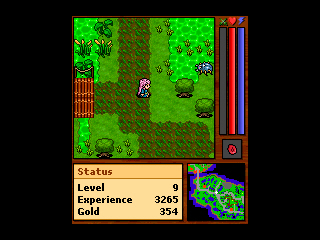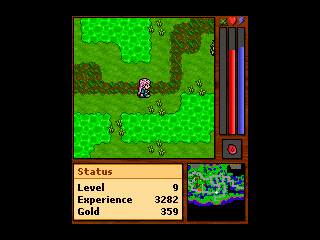 Ashmor has an awful lot of green swamps, and quite a few dungeons tucked away underground.

Still a lot of work to do...
First of all, it's great that CipSoft are continuing to give support to TibiaME and keeping it alive and fresh for the many many people who inhabit its game world. This update is the first step in dragging the TibiaME client out of 2004 and into the present day. The graphics are definitely an improvement on what came before as they allow far more variety, which is essential in an expanding and on-going MMORPG, and the new environments on Ashmor do feel fresher than on previous islands.

However, although it's a step forward, it's still a relatively small step. Some serious problems remain:

- The screen size is still stuck at 176x208, so on all new S60 models it has enormous black bars around the playing area.

- There's still no support for predictive text or Bluetooth keyboards on the chat function which cripples it quite a bit.

- The number of player icons is too small, just four different icons depending on profession and gender.

- Movement around the game world is still very slow compared to offline games, although to their credit CipSoft have now added teleports which are accessible in places you've already explored, so you don't have to walk long roads more than once. The developers also say that they are working on a new separate game world purely for people with faster and lower-latency connections such as wifi and 3G. This server would allow a much higher movement rate, and hopefully we'll see it happen some time in 2008.

- There's no sound at all. No music, no effects.

- Some annoying little quirks, for example the client doesn't remember your password so you have to enter it every single time you log on (which means it has to be very short and memorable, which makes it easier for hackers to crack, which ruins the point of having a password at all).
This is Pyramus the Ghost. Unlike the other ghosts on Ashmor he's friendly, and wants you to help him recover his memory.

But it's already worth playing

Having said all this, TibiaME remains a unique and compelling phone game as it really does offer massively multiplayer online gaming for mobile devices. There's no score uploading or player matching, there's no turn-taking or waiting around for someone else to enter a lobby. TibiaME is a proper persistent online world with thousands of real players who can communicate and interact with each other in real time.
If you haven't tried it, it's well worth downloading the free trial version which lets you explore the first island. The gold version ($5 one-off payment) includes an automap feature, and if you take out a premium membership (€9.99 for four months) you get access to every area of every island. The full game world is absolutely huge, you could spend weeks exploring it all. The developers have added new areas to explore several times over the last few months with even more new content on the way, so this is a growing world too.

If CipSoft could properly update the software to make it look a bit more impressive on the latest generation of smartphones, if they correct the problems above, and if they continue their policy of regularly adding new content, this could be one of the best phone games ever made.
PS: You can see a gameplay video of the updated TibiaME and Ashmor over on the Unofficial Nokia Gaming Blog.