So you're visiting The Smartphone Show, and given it's free entry to everything except some of the high level political stuff there's not much of an excuse (apart from distance) in not getting round everything. But if you've not got the full two days, or you're looking for what to go and see straight away, then here are a few suggestions.
All About Symbian
My, my, this is a familiar name! Yes we'll be out in force, and a number of the AAS team are going to be not only prowling round the Show looking for the news stories, but making themselves available to talk about the site, our readers, and how we can help companies get their message out to handset owners. Rafe, Ewan and Steve are definitely coming along, and more of the team will be dropping in on both Tuesday and Wednesday. You'll find us in the Media Zone, which is pointed out on this handy map.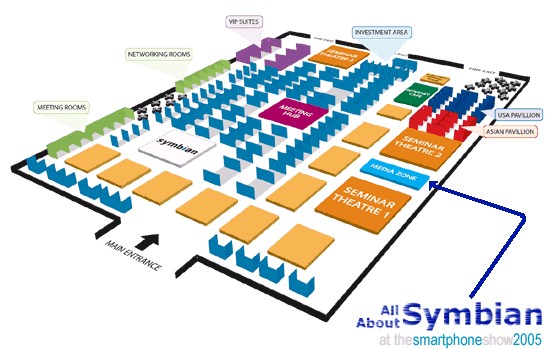 Symbian
The other stand everyone is going to naturally gravitate towards is the Symbian stand, to find out what's going on with OS 9.1, and if the rumoured changes to the Symbian Signed program are as useful as they might be. Although the separate Symbian Developer Network stand might be a better idea for that question. The Symbian stand is usually the place to see most of the new handsets.. Given that certain companies aren't sending over massive stands to display new phones, but just push their developer program, it might be, strangely, the only place to see handsets like the N91.
Of course we've talked already about Symbian and what it's partners will (hopefully) be doing, so let me take you on a flying run around the floor to see what catches my eye and deserves a bit more exploring once we all get to the ExCeL Centre.
Dataviz and Quickoffice
Where you see one, you'll see the other. The two competing Office Suites have a strange relationship with each other, having seen 'battle' in the Palm sphere (where Dataviz have the upper hand in terms of volume), and are now working in the Symbian sphere (where the roles are reversed). Both the applications have differing strengths and weakness, and you need to see both of them in action to decide which is for you.
www.dataviz.com
www.quickoffice.com
Dreamspring
At the other side of the field of Developers is Dreamspring, coming all the way from Australia. They'll be showing off their new contacts manager application, DreamContact2 for UIQ, along with a number of their other products. Their MD, Malcolm Lithgow, started out on the Psion/Epoc devices and has stuck with Symbian, and this small operation is another example of where Symbian's focus should be more. The more companies like Dreamspring, the better for everyone.
Visto
Push email, especially from Research in Motion, has always been held up as a killer function in mobile devices, and Visto have a huge amount of time and effort invested in their multi-platform push email solutions. They'll be demonstrating their solutions on the floor, and having seen this in action at 3GSM, it's stunning stuff and they're not kidding – it is a killer solution.
Macromedia
Still promising to break out onto into the mainstream, Flash Lite is another runtime that's coming real soon now to the Series 60 platform. At the moment it's supplied to smartphones as an integrated player, and the key to its adoption is getting the Flash runtime into as many handsets as possible, then getting the programmers to follow. But it looks impressive, and there should be demos aplenty showing exactly what it can do.
Access
In a perfect world there would be a signpost that would say, "We're here about the NetFront web browser, so don't mention the fact that we actually own PalmSource and Palm OS now." But of course, everyone is working out why they'd move for PalmSource, and perhaps the NetFront browser technology is the key. In any case, the browser is a nice piece of work and deserves investigating.
www.access.co.jp/english/index.html
Surfkitchen
When WAP isn't enough for mobile operators, it's time to look at some alternative interfaces and "user experiences." Every year there are always a number of companies along these lines, all with slick programmers, a nice looking idea, and the mantra "will sell it to the networks." Out of this year's contenders, SurfKitchen looks to be one of the nicer implementations. Of course part of you is thinking why should a company such as UIQ or Nokia's Series 60 department go to all the bother when the carriers are going to replace everything… One to ask SurfKitchen I think!
Wiley
Not the only Symbian book publisher in the game now O'Reilly have turned up on the scene, but still the one with the largest range, and the first place you should turn to for anything developer wise. From high level OPL and Java, to adventures deep in the Symbian Kernel, you'll find all the books on sale at the show, and it wouldn't surprise me if half the authors will be hanging around nearby as well.
ZiCorp
Getting information into your smartphone is always an interesting experience, be it a qwerty keyboard on a 9500, T9 on Series 60 or the handwriting recognition on UIQ. ZiCorp, along with some very nifty global and app specific search tools, have a number of improvements to the user input experience, including eZiTap, eZiText and Decuma. Worth giving them a spin with your favourite stylus in hand.
---
Obviously every comapny on the floor at The Smartphone Show has something of interest, and these are only a few highlights. The full list is at The Smartphone Show website, and it's worth noting down your own favourites before you get to the show.
Of course we've talked already about Symbian and what it's partners will (hopefully) be doing, so let me take you on a flying run around the floor to see what catches my eye and deserves a bit more exploring once we all get to the ExCeL Centre.