Memotoo is an online PIM service, which at its most basic level provides a web-based personal organiser, and synchronises with your phone, via SyncML. As with NuevaSync and GooSync, it provides also a go-between synchronisation service for your Google calendar and contacts. Beyond Google though, Memotoo provides a full-PIM data synchronisation service between: Facebook, LinkedIn, Windows Live, Yahoo and even AOL; as well as your phone! (Note: NuevaSync supports Yahoo contacts too).
Memotoo's strength is in the range of formats and platforms it supports. It is easy to export and import data, and work with other applications. For example, using Memotoo's iCal publishing feature to view and edit your calendar in the likes of Mozilla Sunbird; or the excellent but unsung desktop calendar, Rainlendar.
Time for some disclosure, I've been a personal user of Memotoo for over three years. Although, I've only recently dared to try its extra synchronisation services, I've been testing additional synchronisation with Google, Facebook and LinkedIn, which are reviewed below.
Gmail Contacts
After clicking the link to set up synchronisation, you are redirected to Google to give your permission for Memotoo to access your data. You are then returned to Memotoo, where you choose whether you want a bi-directional sync, or for Memotoo to overwrite Google, or vice versa.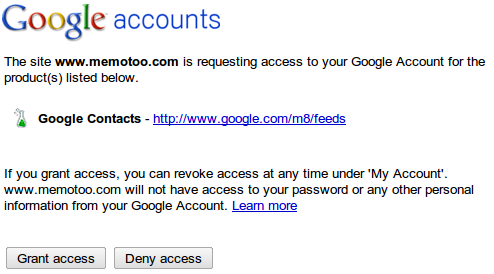 Once that minimal configuration is done, you are presented with a page telling you that your accounts are being synchronised. Contact fields are mapped precisely, and any mismatched contact names can be easily dealt with, thanks to Gmail's 'merge contact' tool.

Whenever you make a change to your Memotoo address book, including SyncML updates from your phone, they are immediately pushed to Google. Memotoo checks Google for updates on a schedule you set, either: weekly, daily or hourly. There is also a manual sync button on Memotoo's address book page if you're in a hurry.
Once you're done synchronising your contacts, you can choose to assign contacts to categories which will translate into groups on Gmail contacts.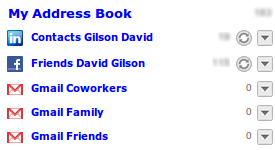 Google Calendar
Setting up Google Calendar is just as simple. Memotoo supports categories, even though S60 doesn't. When you are configuring your calendar sync, can choose to sync all of your categories, or just one category with any of your Google calendars. Memotoo won't automatically create Google calendars for you. For example, if you want all of your categories to directly map onto corresponding Google calendars, you have to create the calendars on Google first. Therefore, you have to repeat the set-up process for every category you want to synchronise.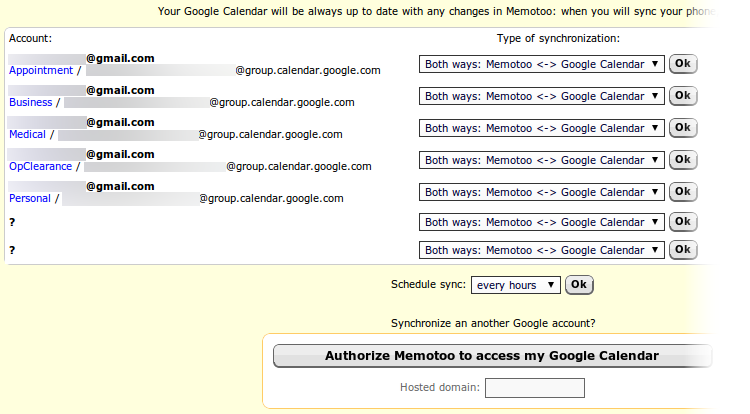 Just as with contacts, Memotoo pushes any changes to Google in real time. You have the same options for setting how often Memotoo will check Google for changes, and there is a manual sync button too.
Transmitting birthdays from your address book to Google Calendar is also possible, but done differently. Memotoo provides a separate iCal feed for your contact's birthdays, which Google Calendar can subscribe to.
Facebook & LinkedIn contacts
I'm grouping these two together because the synchronisation experience is the same for both. The general process is to click the Add/Connect link on the bottom left of Memotoo's address book page, then be redirected to an authorisation page to give your permission for Memotoo to access your data on the chosen social network. Then, you are bounced back to Memotoo where you are presented with the following options: "Update only the empty data of this contact Memotoo compared to those found in Facebook" or "Replace all data of this contact Memotoo compared to that found in Facebook". This choice determines whether your existing data in Memotoo gets precedence or not when the the same data field is found on Facebook or LinkedIn.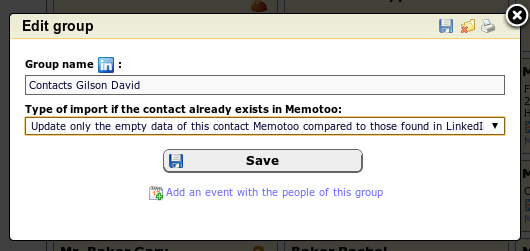 It is worth reflecting at this point as to whether this is worth doing at all. LinkedIn displays little personal data anyway, and Facebook is not the digital address book of the Internet that it once was. I recommend that you let Memotoo always take precedence, given the questionable accuracy of personal information on Facebook.
Nonetheless, there is value in synchronising with these social networks. Either site is useful for harvesting profile pictures, which will no doubt brighten up your S60 contacts list and favourite contacts home screen widget. Furthermore, Facebook at least can be useful for collecting birthdays, and LinkedIn is useful for gathering professional titles.
Having added either social network to your Memotoo address book, the associated contacts are added to a special group. Each group has options to change the synchronisation mode and entirely delete the group & synchronisation. Note, if you do the latter you should remove the Memotoo application from the corresponding social network too, otherwise, reinstating the synchronisation won't work in the future. Deleting a social network group doesn't delete the contacts you already had stored in your Memotoo address book. They remain, as does a link to their social network profile.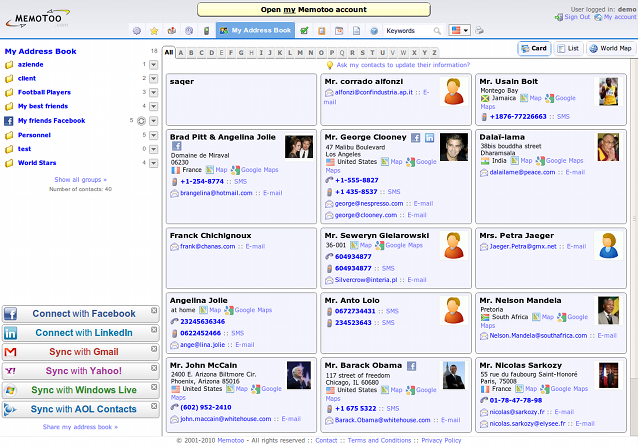 This is a demo page of how a fully socially-tricked out Memotoo address book looks.
Potential contact list problems
Memotoo matches your contacts to your social network friends by simply comparing their first and last names. This doesn't take variations of names into account; e.g. "Dave" won't match with "David", or "Andy" with "Andrew", etc. There is no manual way to associate these, and I had to write to Memotoo's Webmaster, Thomas Pequet, for assistance. For such cases, he recommends copying the Facebook (or LinkedIn) link from the duplicate contact, and pasting into the corresponding field on the original contact. Then, deleting the duplicate contact, and resynchronising. Memotoo will then associate your original contact with the social network(s) they belong to.
Conclusion
If you're only interested in working with Google services, then GooSync has the best potential (long term) value for money, as you can see below, though Memotoo is cheapest in the short and medium term.
| | |
| --- | --- |
| NuevaSync | $25 per year |
| GooSync | £19.95 for 1 year, £29.95 for 2 years, £39.95 for life membership |
| Memotoo | £3 for 1 month, £12 for 12 months, £17 for 18 months, £22 for 24 months. Free for limited use. |
If you want to do more than just work with Google though, NuevaSync has the added value of working with Yahoo Contacts and the "Toodledo" list manager, as well as giving you push e-mail. However, Memotoo is effectively a fully-featured standalone personal organiser, besides all of its synchronisation options.
I have long said that people shouldn't use any cloud service that doesn't allow them to locally backup their data. Memotoo gives a link to a dynamically generated zip file containing all of your data for just that purpose. In my opinion, this is the killer feature of Memotoo, as the importance of backing up your data cannot be understated.
David Gilson for All About Symbian, 4th March 2010.
You can find me on my blog, on Twitter, and now on Facebook.