A new 'Notes'?
Pressing the 'Notes' button on the Nokia E90 and seeing a totally new application pop up is more than a little disconcerting. The old Notes utility is still there and can be assigned to (for example) the 'My own' button if needed, but in the meantime, Active Notes is what gets launched. But why on earth would you want a second notes application? Especially one that doesn't automatically synchronise with your PC?
Good question. Luckily, there's a good answer. Traditional notes, synced by PC Suite with Outlook or by iSync to a Mac or by SyncML to an Internet PIM service, are all plain text. Useful for jotting down snippets but not much more. With the likes of the E90 being used very much for data gathering and research (what with the full qwerty keyboard), the presence of another note-taking tool that's not limited to plain text makes a lot of sense.
You could argue that Quickword (also in the E90 firmware) would serve this purpose. And it does, to a degree. Unfortunately the current version (4.5) is very limited in what can be inserted - i.e. just images, and these are included at full size, completely unworkably, with no way of resizing them.
Active Notes steps into the breach, with a full multi-media friendly way of organizing your thoughts, media and even contacts. Although such a 'rich' tool isn't going to synchronize to anything else, the content IS portable, by virtue of Active Notes storing all information within a standard HTML and folder framework. Which means that you can then move it across to any other computer in the known universe and view the content in more or less the same way. Let's see how this works in practice...
---
Creating an Active Note
You start with a blank note sheet, but press 'Options' and you'll see the range of things that can be inserted 'inline'. Images, sound clips, videos, contact business card, documents (files), even web bookmarks. I've gone for an example of a fictional property that I've been researching through a local estate agent.
Typically, while doing research, you'd type in impressions, facts and trivia, while also taking relevant photos and even videos. Useful contacts that you encounter can be entered in Contacts as usual and then embedded in your Active Notes document. Similarly for useful URLs and assorted Office and non-Office files. In each case, you create the media or information as normal and then embed it in your project document so as to keep everything in one place.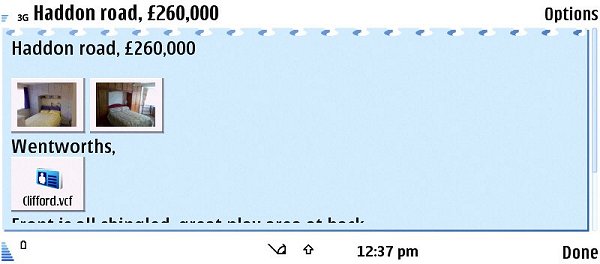 Rather cleverly, every embedded file/item is shown in a sensible sized thumbnail - selecting any of these and pressing in the d-pad results in the item being opened in the appropriate application, e.g. the S60 picture viewer. The system works surprisingly well, although don't expect to get up to any fancy formatting, the text itself is still limited to a basic font and text/objects are placed resolutely inline, vertically.
Caveats and document transfers to other computers
One thing to be aware of is that the embedding (inserting) process actually creates a copy of the relevant object (e.g. a photo or video) and stores it in a named folder associated with the current Active note. On the plus side, this means that it's trivial to move everything onto your PC later on, without missing any essentials 'bits'. On the minus side, you have to watch your storage memory, since you can obviously end up with multiple copies of particular media. In the case of video clips you can see that careless embedding could quickly exhaust even the E90's spacious internal disk. Luckily, there's a 'Move' option on the menu, letting you shuffle large Active note projects over onto a larger microSD card.
You've also got to watch out not to delete the original content (images/referenced documents), as it's these that are used by Active Notes itself, separate from the mirroring of content into the associated sub-folder - deleting or archiving the external content will cause broken icons within your Active Notes document. This behaviour seems somewhat crazy - Nokia, if you're reading this, let an insertion/import be just that and let the Active note use its own local copy of each object!! Hopefully this can be fixed in future firmware....
As and when you'd like to use some of your new note content on your Window PC (for example), just use PC Suite to browse your 'Nokia phone' and look in the '/Activenotes' folder (under '/Data', of course). Each note is stored in this folder as a single .html file, along with a similarly named folder (with "_files" appended). Copy both to any folder on your PC and then double-click the .html file to open it your preferred web browser: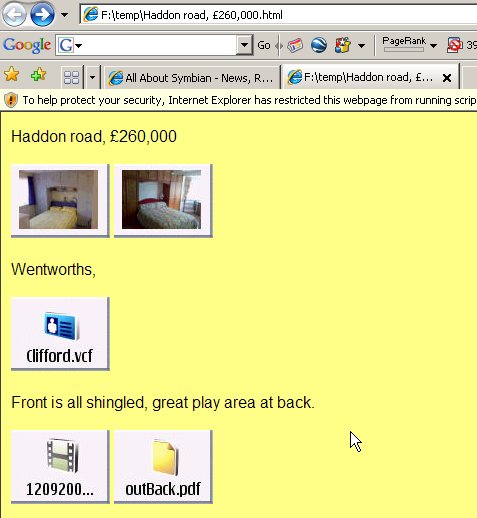 The only thing to watch for is if you start creating folders within Active notes, in which you've also got to copy across root level folder so that the path to each image/video/file remains correct. Don't worry, just avoid using extra folders at first and then create some only if you really, really need them, to avoid confusion.
---
Handy HTML
The focus on HTML has several extra implications. For starters, just about every other document editing system on the planet can probably import your new document (though support for embedded/hyperlinked images and objects may not be perfect, of course). Secondly, the HTML is already suitable for web deployment, meaning that Active Notes can be thought of as a fledgling web page editor. In a research environment, it's certainly a quickish way of getting a web page started, relying on a little style polishing and more complex layout applied at a later stage.
---
Active Notes activities
There are also interactive features on the E90 itself. Embedding a web 'Bookmark' into a document (or even just typing a recognisable web URL) is enough to give you one-click access to that web page from your Active Notes project: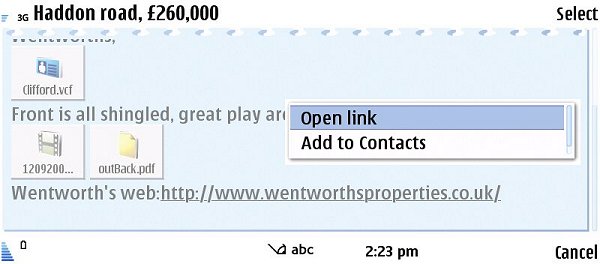 Also of note is a 'Link note to call' function on the main menu. By linking an Active note to a particular contact in your Contacts store, the note can automatically be brought to the foreground when that contact calls you: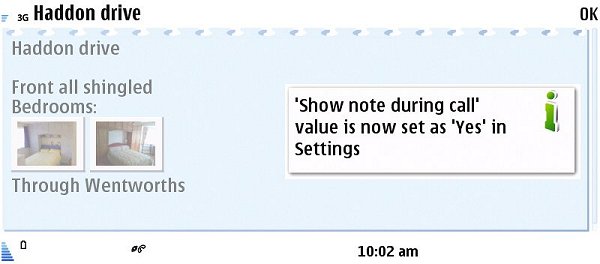 An interesting and genuinely innovative function, but obviously of somewhat niche use. Each note can obviously have a different associated contact.
Do you have any extra tips or comments on Active Notes on the Nokia E90? Drop me a line!
Steve Litchfield, AllAboutSymbian, 12 Sep 2007